'Academy of Cannabis' SWAT standoff ends with man found in ceiling


SEATTLE -- A police and SWAT standoff Tuesday morning in South Seattle reportedly ended peacefully when a third and final robbery suspect was taken from a building in the 8300 block of Dallas Avenue by police shortly before 6 a.m. Tuesday.

The suspect was the last of three suspects arrested Tuesday morning. The man was found hiding in the building's ceiling, police said.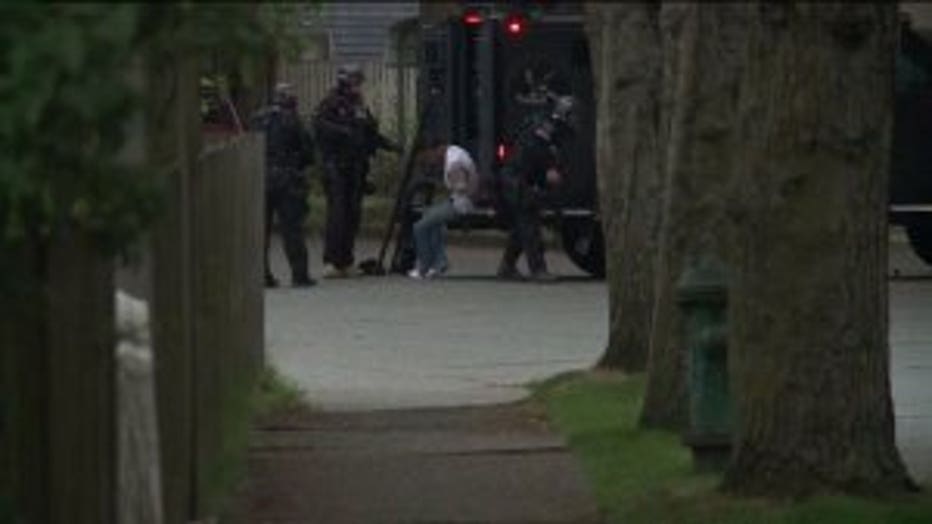 Police were called to the scene with a report of a robbery-in-progress early Tuesday morning inside a building containing marijuana. The victim called police as three unknown men entered the building, police said, and he set the phone down and allowed the 911 call to continue as the suspects allegedly tied the victim with duct tape. The man managed to escape, and police arrived at the scene to find the victim running out of the house. Two suspects followed him and were arrested by police.

A third suspect stepped outside, noticed police and quickly walked back in. Police tried to get the man out of the house with flashbang grenades and chemical irritants. The man, believed to be armed with a gun ,hid in the ceiling. He was taken into custody without further incident.

The robbery victim told reporters the suspects beat him up and held him for 20 minutes. Luckily, he said, he was on the phone with his friend at the time of the robbery, and his friend called police.

A large amount of marijuana was believed to be in the building, police said, and a sign on the building identified it as the Academy of Cannabis Culture and Technology.

Police are awaiting a search warrant to continue their investigation.