About 2,500 lightning strikes! Thunderstorms down trees, knock out power to thousands


SEATTLE -- A series of strong thunderstorms, with lightning strikes, hail and strong gusts, rolled through Western Washington Thursday afternoon, downing trees and knocking out power to tens of thousands.

At 10:25 p.m., Puget Sound Energy said over 36,000 customers were still without power, many in Thurston County.

The Thurston County Sheriff's Office said numerous live wires and power poles were down in the area of Yelm Hwy between Wiggins and Corporate Center Lp and that the roadway was completely closed.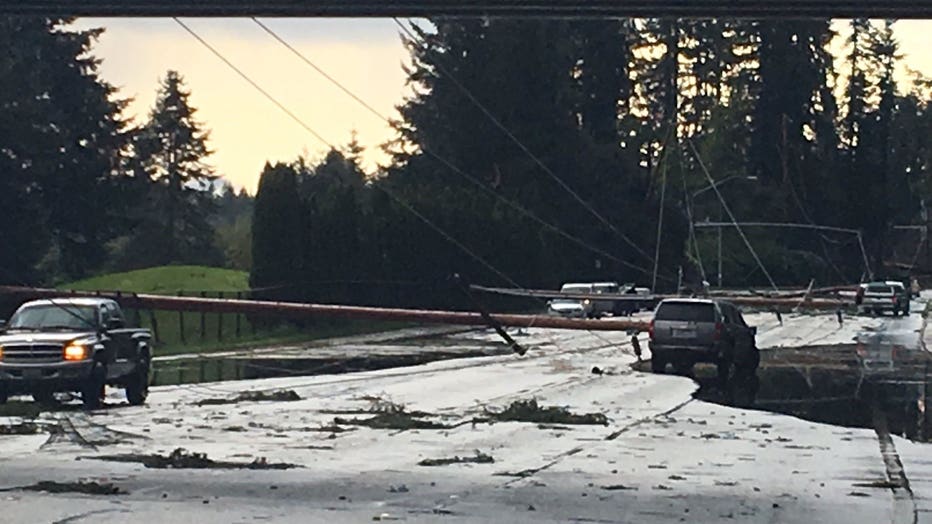 The National Weather Service in Seattle said a wind gust of 50 mph was recorded at Olympia Airport.

Trees were blown over, with some crashing down onto homes or vehicles or onto roads. Lacey seemed to be particularly hard-hit.

The NWS said there were about 2,500 cloud-to-ground lightning strikes from Lewis County to the Canadian border on Thursday.




There were no reports of injuries.




Snohomish County said 4,400 PUD customers lost power in the Martha Lake/Lynnwood areas. And police in Kent and Lacey said traffic lights went out due to power loss there, too.

The National Weather Service in Seattle said it had received reports of branches and trees down 4 miles east of Grand Mound in Thurston County. And then it tweeted this picture from one of its spotters in Thurston County.