A tunnel under Puget Sound? Not as crazy as you'd think


SEATTLE -- An idea being floated this week to Kitsap County commissioners would connect Seattle and Bainbridge Island with a 15-minute drive rather than waiting for a ferry. Instead, you'd go under the water in a tunnel.

The retired civil engineer that's pioneering this idea says there's already deeper tunnels, longer tunnels and tunnels in more seismically active areas. He says it makes sense in so many ways, including helping the native orcas, saving taxpayer dollars and even helping the economy on both sides of the water.

"A light bulb went off,"  says Bob Ortblad, who is retired from civil engineering but still teaches a class at UW on the history of infrastructure. So when a recent ferry trip to Martha's Vineyard cost him $137 but an Icelandic tunnel going the same distance only cost him less than $10, it got him thinking.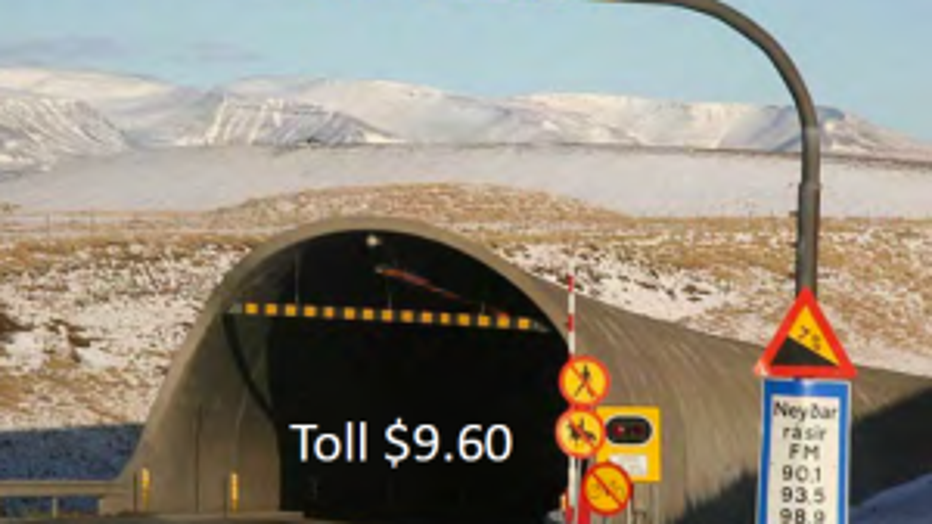 "Starting looking at the Washington State Ferry system, which is highly subsidized," says Ortblad. "A round-trip ticket for car and driver to Bainbridge really should be closer to $75-$100."

So, he's pitching an idea to build a tunnel. So far the Seattle resident of 40 years has pitched it to the Washington State Transportation Commission and later this week to officials in Kitsap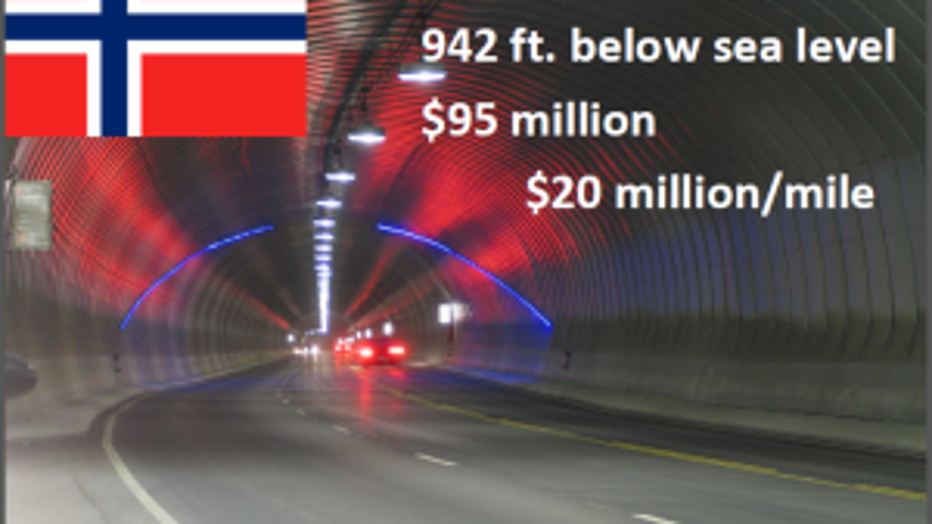 County.  The tunnel would go from Seattle's Smith Cove, under Magnolia Hill, four miles under Puget Sound and resurface on Bainbridge Island.

It would be much like the Eiksund Tunnel in Norway, completed in 2008, which goes a longer distance but a similar depth of about 800-900 feet. Based on the costs, he says, each two-lane tube would cost about $400 million.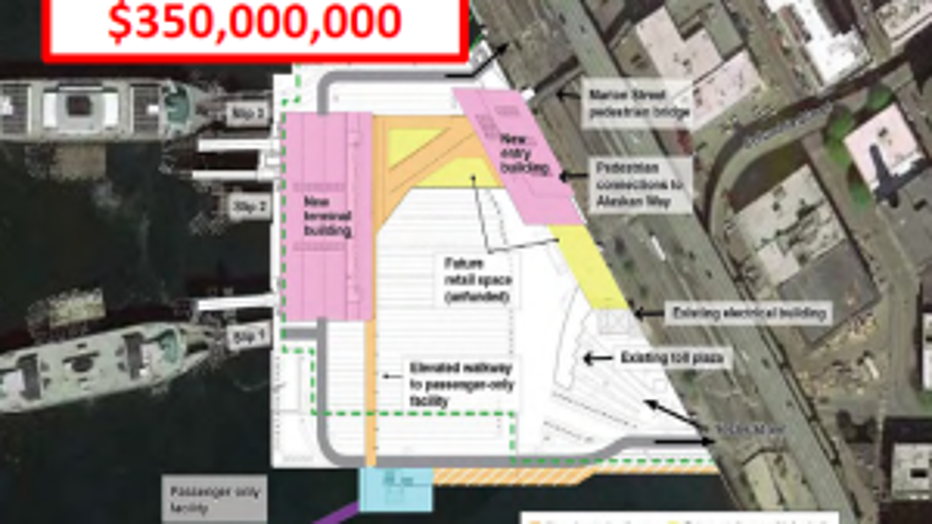 "It's only a little bit more than what we're spending on remodeling Colman Dock," Ortblad said, citing estimated costs for that project of around $350 million.

"It solves a lot of problems, if you start to look at it," said Ortblad. "Affordable housing, things are selling for 60 percent less in Kitsap County. Jobs, too. They just tax themselves to do the fast ferries."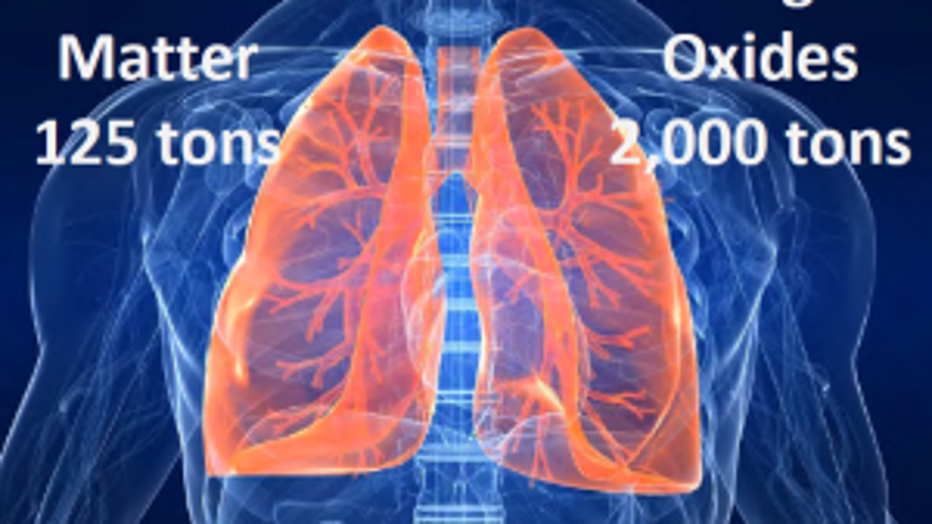 Ortblad said ferries are causing environmental problems, too, from the 9 million gallons of fuel their engines turn into 102,000 tons of carbon dioxide every year to the 125 tons of particulate matter and 2,000 tons of nitrogen oxides in the air. And the needs of native orcas will affect future ferry rides.

"The governor just ordered Washington State Ferries to quiet their ferries," he says. "Which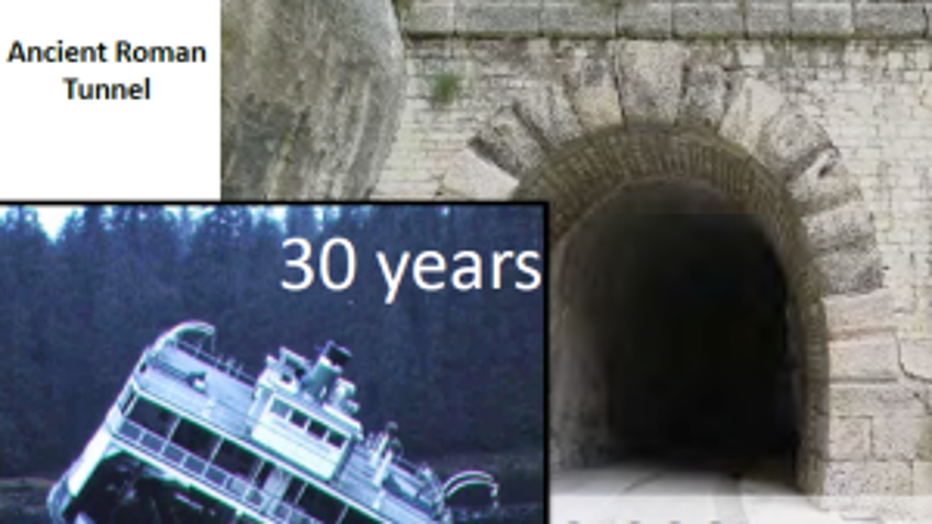 means slower -- 40 percent slower."

Ortblad said tunnels, in comparison, are open 24-7, handle a huge volume of cars and buses are are not affected by wind, waves or fog.  And while the lifespan of a ferry is between 30 to 60 years,some ancient Roman tunnels have been around millennia.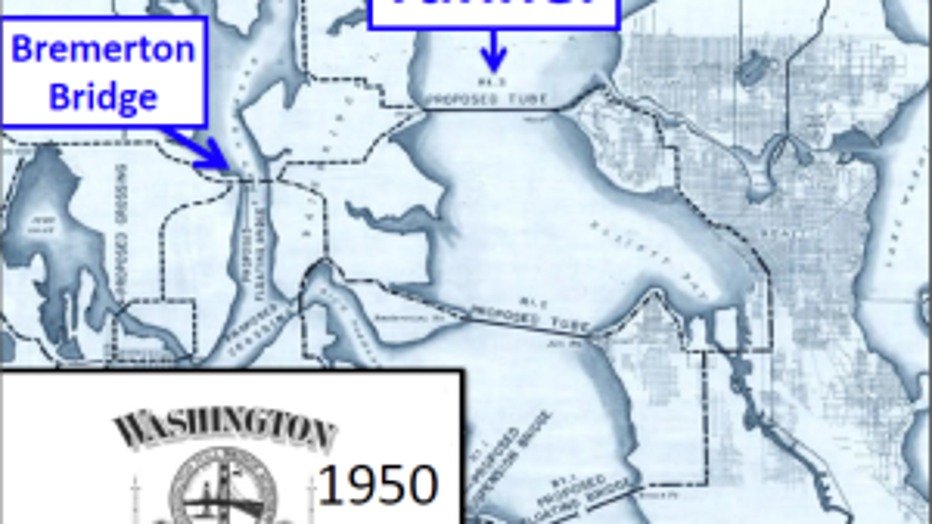 Washington Toll Bridge Authority thought about the idea of a tunnel under Puget Sound back in the 1950s. So while Ortblad wouldn't be the first one to propose a cross-Sound tunnel-- he wouldn't mind being the last.

"They laughed at Homer Hadley, he proposed the concrete floating bridge 100 years ago -- 20 year later, it was built."

Ortblad said the project might not even cost the state a dime. He said the Golden Gate Bridge was entirely financed by the city of San Francisco and counties on the north side of the bridge. Drivers ended up paying back the bonds over time with their toll money.