97-year-old WWII vet takes a knee in support of protests during National Anthem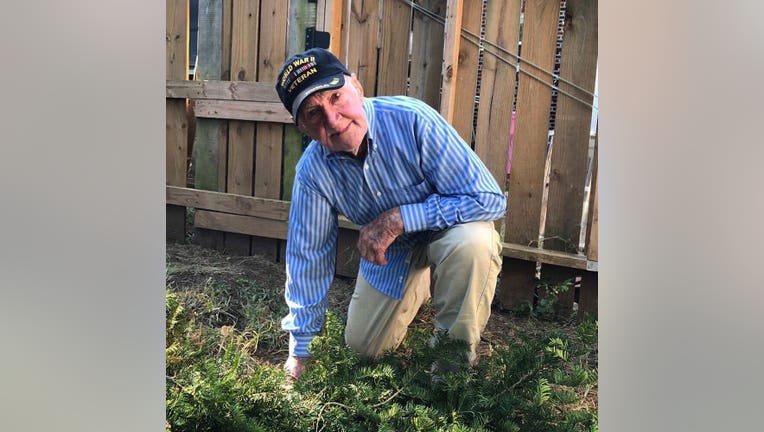 WILLARD, Mo. – Hundreds of NFL players showed their solidarity by kneeling or locking arms during the national anthem on Sunday, and a World War II veteran was right there with them.

John Middlemas, 97, of Willard, Missouri, ">was the focus of a tweet from his grandson, who wrote that his grandfather wanted to take a knee to show "those kids have every right to protest" in reference to NFL players.

#TakeAKnee trended on social media over the weekend after President Trump used profane language and suggested that NFL owners should fire or suspend players who took a knee during the national anthem. The protests started last year with quarterback Colin Kaepernick, who said his protest was in response to violence against African-Americans and racial injustice.

The tweet showing Middlemas kneeling while wearing a WWII veteran hat quickly went viral, collecting more than 132,000 retweets and 349,000 likes on Twitter so far.

"I wanted to communicate what I always told to my grandkids and everybody else," Middlemas told the News-Leader. "When they'd go to bed at night, we'd tell the kids we wanted to be like Jesus."

Do NFL rules say players must stand during the anthem?

During an interview, Middlemas said his support for NFL players stems from his service in the military, when he served alongside black members of the military aboard a submarine.

"I'm trying to say that you have to love everybody," he said. "We don't kill people. We want to make people live."

Middlemas said he hopes the whole world—and President Trump—sees his message. He called the president "garbage-mouthed" and told the newspaper he's not a fan of the commander-in-chief.

https://twitter.com/brennanmgilmore/status/911960316220764160

Commentary: NFL stands united, unified amidst criticism from President Trump