80 arrested, 95 pounds of meth and 75 guns seized in largest drug bust initiative in recent history


KENT, Wash. -- The largest drug takedown initiative in Puget Sound has netted more than 80 drug dealers, U.S. Attorney Annette Hayes said. The initiative began this year and was conducted in four different operations across King, Pierce, Snohomish, Skagit and Thurston counties.

"Over the last four months, more than 80 drug dealing conspirators moving meth, heroin, cocaine and fentanyl have been taken off our streets where they preyed on destructive addictions and used gun crime to further their trade," said Hayes.

Thirty-five members of a drug trafficking ring were arrested Wednesday as part of the fourth bust, aimed at reducing drug and gang violence in South Sound communities.

The takedown comes on the heels of three other law enforcement efforts involving wire-taps and surveillance to dismantle sophisticated drug trafficking rings linked to violence.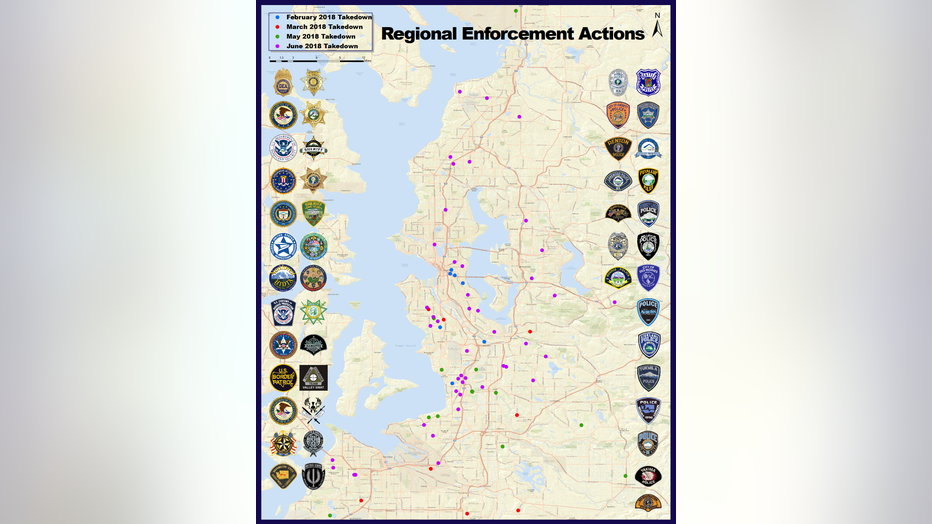 "DEA is in a race to save lives," said Keith Weis the Special Agent in Charge for the Pacific Northwest.  "These strategic operations have stopped some of the most violent criminal groups operating throughout the Puget Sound Region from pushing dangerous drugs onto our communities most vulnerable members facing life or death struggles against addiction."

"The FBI is committed to holding violent gang members accountable for their actions," said Special Agent in Charge Jay S. Tabb Jr., of the FBI's Seattle Field Office. "The level of violence committed by these individuals has been detrimental to the South Sound community for years. Today's arrests mark a major step toward addressing this problem."

According to records filed in the case, conspirators trafficked cocaine, heroin, oxycodone, illegal marijuana and fentanyl.  Associates of some of the traffickers arrested Wednesday were shot and some killed in various shooting incidents in both Seattle and south King County.

On the wiretap law enforcement heard conspirators talk about various shootings after they occurred, including the September 4, 2017 shooting outside a Renton hookah lounge.  Among other things, conspirators discussed getting firearms after being shot at by rival gangs.

Taken together, these four operations resulted in the seizure of 75 guns, more than 95 pounds of methamphetamine, more than 32 pounds of heroin, more than 7 pounds of cocaine (both crack and powder) as well as ecstasy and fentanyl.  More than $327,000 in cash and 22 vehicles also were seized.

From Wednesday's bust alone, law enforcement seized 12 pounds of heroin, more than 2 kilos of cocaine, a pound of methamphetamine, 124 pounds of marijuana, 41 firearms and hundreds of thousands of dollars in cash.

"Today, hundreds of law enforcement professionals came together to make our neighborhoods safer, taking criminals and drugs off the street and possibly saving lives," said Seattle Police Chief Carmen Best. "As a former Narcotics commander, I recognize the tireless work that goes into these investigations. Together with our federal and local partners, we have orchestrated one of the largest investigations in recent memory. A special thanks to the FBI, DEA and the US Attorney's Office. This level of collaboration is unprecedented."

"The U.S. Marshals have always believed in the power of collaboration, and the effectiveness of combining the resources and expertise of our federal, state, and local law enforcement partners for the common good. Today, that tradition of collaboration continues and we are proud to be a part of it", said Acting U.S. Marshal Jacob Green.



The charges contained in the indictment are only allegations.  A person is presumed innocent unless and until he or she is proven guilty beyond a reasonable doubt in a court of law.

The defendants in these cases face a variety of drug and gun charges. The penalties range from five years in prison to a maximum of life in prison depending on the pertinent charge.

This case is part of Project Safe Neighborhoods (PSN), a program bringing together all levels of law enforcement and the communities they serve to reduce violent crime and make our neighborhoods safer for everyone.   Attorney General Jeff Sessions reinvigorated PSN in 2017 as part of the Department's renewed focus on targeting violent criminals, directing all U.S. Attorney's Offices to work in partnership with federal, state, local, and tribal law enforcement and the local community to develop effective, locally based strategies to reduce violent crime.

This was an Organized Crime and Drug Enforcement Task Force (OCDETF) investigation, providing supplemental federal funding to the federal and state agencies involved.  This investigation was led by the Seattle Police Department Gang and Narcotics Units, FBI Seattle Safe Streets Task Force, and the Drug Enforcement Administration (DEA).  Other agencies providing investigative assistance include ATF, USMS, and the U.S Bureau of Prisons.