78 crew members evacuated after fire on fishing vessel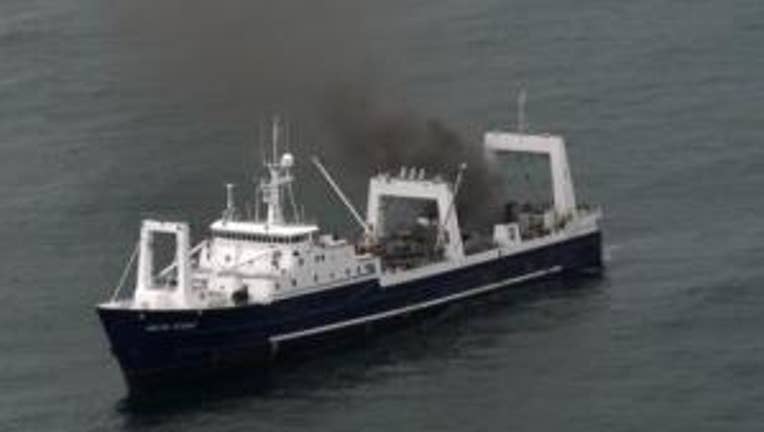 GRAYS HARBOR, Wash. -- Seventy-eight crew members from the fishing vessel Arctic Storm were evacuated after it caught fire about 32 miles west of Grays Harbor Monday.

The U.S. Coast Guard said the vessel's crew members successfully put out the engine room fire using the Halon chemical firefighting system aboard the ship.

Coast Guard MH-60 Jayhawk helicopter crew from Air Station Astoria and two 47-foot motor lifeboat crews from Station Grays Harbor monitored as Good Samaritan vessels evacuated 78 of the 120 personnel aboard the fishing vessel, it said.

Forty-two crew members will remain aboard Arctic Storm to man the vessel, the Coast Guard said. The 78 evacuated crew members were moved to commercial fishing vessels Northern Voyager, Golden Alaska, Sea Dawn and Excellence. Evacuated crew members are scheduled to be transported to Westport, Wash.

A tug is enroute to tow the Arctic Storm to Aberdeen, Wash., the Coast Guard said Monday night.

Arctic Storm is reported to contain approximately 188,000 gallons of diesel fuel.

Coast Guard Sector Columbia River received a call from the 314-foot ship at about 3:20 p.m. Monday reporting an uncontrolled engine room fire.

The Coast Guard launched two MH-60 Jayhawk helicopter crews from Air Station Astoria and three 47-foot motor lifeboat crews to the scene.

The Coast Guard also issued an Urgent Marine Information Broadcast to alert other ships in the area that would be in a position to help the crew.