65 bus routes face elimination if funding expires at year's end


SEATTLE -- As many as 65 Metro Transit bus routes are slated to be cut, and another 86 routes reduced if state lawmakers allow temporary two-year funding to expire at the end of the year, King County Metro Transit General Manager Kevin Desmond said Monday.

According to Desmond, up to 17 percent of Metro's service could be cut by the end of the year if temporary funding is not renewed in the face of Metro's projected $75 million annual budget gap.

Patricia Stinehour is one of almost 400,000 daily riders on King County Metro buses.

"I take it everywhere," Stinehour said. "Everywhere I need to go. I shop. I go to the library. I go to work. Go out with friends. So, I use the bus for everything and I can't imagine having lines cut."

In 2010, the county temporarily averted the same cuts by enacting a two-year Congestion Reduction Charge at $20-per-vehicle that provided an estimated $50 million over two years. Desmond said Metro's financial reserves are depleted and any further department reforms, such as cutting staff and wage freezes, would lead to definite cuts in routes.

"Our analysis shows that we should be adding service to meet growing demand," Desmond said. "But the sad reality is that -- without ongoing and sufficient funding -- potentially one-third of our routes are on the chopping block, and another 40 percent of our routes face reductions and revisions."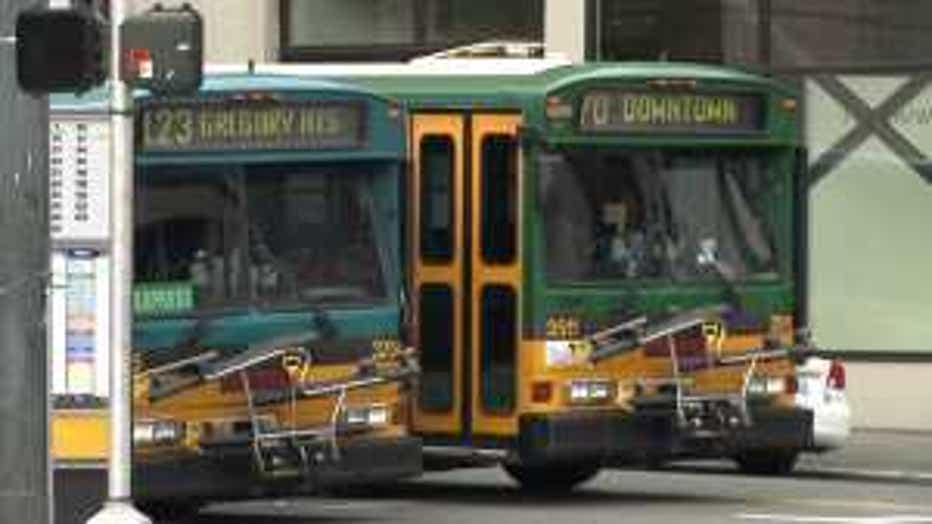 Metro Transit's largest source of funding is sales tax revenue, Desmond said, and since 2008 a weak economy has stunted incoming funds. Metro Transit Seattle is the ninth largest transit system in the country, carrying more than 115 million passengers in 2012.

Desmond said the transit service managed to buck the country-wide trend of cutting service over the past five years.

"Throughout the recession Metro bucked industry trends and kept most of our service on the road to serve the people who depend on and benefit from public transit," Desmond said. "However, as we did two years ago, we are again facing major cuts expected to have far-reaching effects.

"This is, of course, going to affect transit-dependent folks very significantly because many of those folks simply do not have good choices, including seniors and people with disabilities."

From working professionals to students, thousands rely on the bus to get from one place to another on time.

Even those who don't ride the bus will be affected. A reduction of this size by King County Metro would put more cars on the roads because riding the bus just wouldn't be feasible. There could be an additional 20,000 to 30,000 cars on the road each day.

A report released by Metro showed the transit's system's at-risk routes:

Routes at risk for reductions and revisions (86 routes): 1, 2S, 2N, 3S, 3N, 4S, 4N, 5, 5EX, 7, 8, 9EX, 10, 11, 12, 14S, 16, 21, 24, 26, 26EX, 28, 28EX, 29, 31, 36, 41, 43, 47, 48N, 60, 65, 66EX, 67, 68, 70, 71, 72, 73, 106, 107, 116EX, 118, 121, 122, 125, 148, 156, 177, 181, 182, 186, 187, 193EX, 202, 204, 209, 214, 221, 224, 226, 232, 234,  235, 236, 238, 241, 245, 246, 248, 249, 255, 269, 271, 309EX, 311, 312EX, 331, 355EX, 372EX, 373EX, 901DART, 903DART, 908DART, 909DART and 931DART.

Routes potentially unchanged (66 routes): 13, 15EX, 17EX, 18EX, 32, 33**, 40, 44, 48S, 49, 50, 55**, 56**, 62, 64EX, 74EX, 75, 101, 102, 105, 111, 120, 124, 128, 131**, 132**, 140, 143EX, 150, 153, 155, 158, 164, 166, 167, 168, 169, 178, 180, 183, 212, 217, 218, 240, 242, 252, 301, 303EX, 306EX, 316, 330, 342, 345, 346, 347, 348, 358EX, A Line, B Line, C Line, D Line, 773, 775, 915DART, 916DART, 917DART (** Routes not reduced because we expect productivity to be above the bottom 25 percent threshold due to changes since spring 2012)