$5,000 tip left at bar in Port Orchard was real deal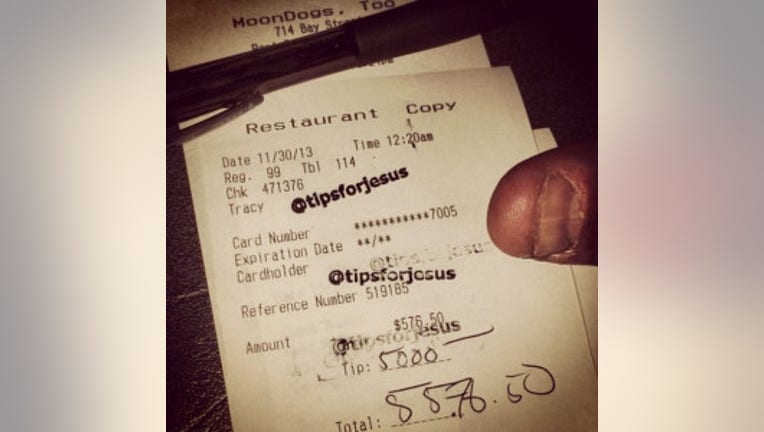 PORT ORCHARD, Wash. -- The owner of the MoonDogs, Too bar in Port Orchard confirmed Wednesday that a customer's $5,000 tip on a credit card has cleared, and the windfall will be divvied up among the 11 employees who were working the late shift last Friday night.

The bar's owner, Darryl Baldwin, said the transaction was credited Tuesday morning.

The waiters and bartenders at MoonDogs, Too aren't the only recipient of this generosity.  A person recently has been leaving  huge tips at bars and restaurants around the country and stamps the check "@tipsforjesus."

The tip left at MoonDogs, Too was first reported by the Kitsap Sun.

Baldwin said that there was a man at the bar who was having a good time with friends last Friday night and bought at least one round of shots for the house -- about 100 people.  The man had a $576.50 tab and signed for it with an American Express card -- and then added a $5,000 tip

It was stamped with Tips for Jesus, and the Instagram account shows a photo of the MoonDogs receipt with the tip.

"This is just so bizarre," Baldwin said, according to the Kitsap Sun. "That's definitely ours, and it was definitely our staff that got that."

The same thing has happened at other spots from Chicago to California. The tips range from $500 to $10,000.