5 people shot in Pioneer Square; one woman seriously wounded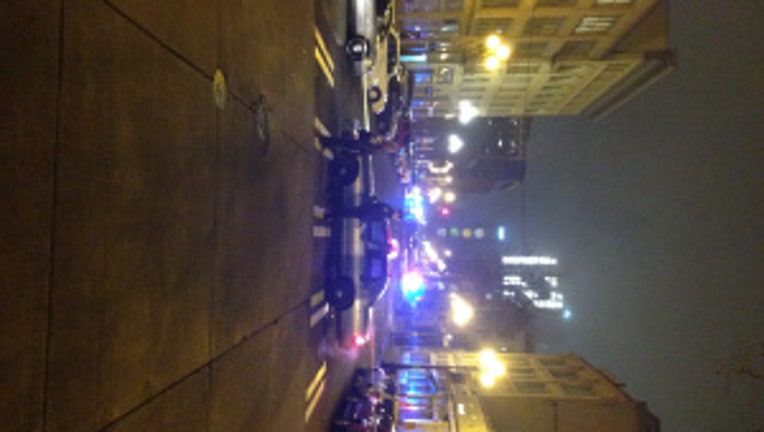 SEATTLE --  At least two people opened fire during a disturbance between two men early Monday morning near 2nd Avenue South and South Main Street, and at least five people were wounded, including a 26-year-old woman who was hit in the facial area and seriously injured, Seattle police said.

She has life-threatening injuries and is being treated at Harborview Medical Center.

"The investigation thus far indicates that this incident started as a disturbance between two males that rapidly spun out of control," the Seattle Police Department crime blotter said. "It is believed that the initial disturbance began on the southeast corner of 2nd Avenue South and South Main Street. At least two people are believed to have fired guns during the disturbance and five people with gunshot wounds have been identified.

"The five people that were shot during the incident are all adults and include three males, ages 24, 20, and 19; and two females, ages 26 and 22.

"Responding officers located the most seriously wounded person, the 26-year-old female, on the northeast corner of 2nd Avenue South and South Main Street with a gunshot wound to her facial area," the blotter said.

Eventually, detectives identified four other people with gunshot wounds as being involved in the incident. All four of them sustained non-life-threatening injuries, police said.

One suspect, a 21-year-old man, was identified and arrested away from the scene, police said. He was interviewed and subsequently booked into the King County Jail for felony assault and being a felon in possession of a firearm.



According to Seattle police, an officer was patrolling around 1:10 a.m. near 2nd Avenue and Cherry Street and heard gunfire outside a nightclub. While responding, a woman driving a beige sedan was fleeing the area driving the wrong way on 2nd Avenue South. The woman struck a marked police unit, lost control and hit a parked car.

Another responding officer discovered a woman near the crash that had been shot in the jaw. She was treated at the scene and then taken to the hospital with life-threatening injuries.

Around 1:27 a.m. a man was dropped off at Harborview Medical Center with a gunshot wound to the foot. The vehicle that dropped off the man left the area. It was stopped by police a short time later on MLK Jr. Way South and the people inside the car were detained.