5 days of cleaner air -- and even a chance of rain -- on the way, meteorologists say


SEATTLE -- Poor air quality from wildfire smoke that's forced even healthy adults indoors in the Seattle area is expected to ease up later Wednesday, though officials warn that some of the hazy conditions may still appear into Thursday.

The National Weather Service's air quality alert from the San Juan Islands to the foothills of the Cascade Mountains has been extended through noon Thursday.

The service shared this map that showed the wildfires in British Columbia and Washington state that were impacting air quality across the region.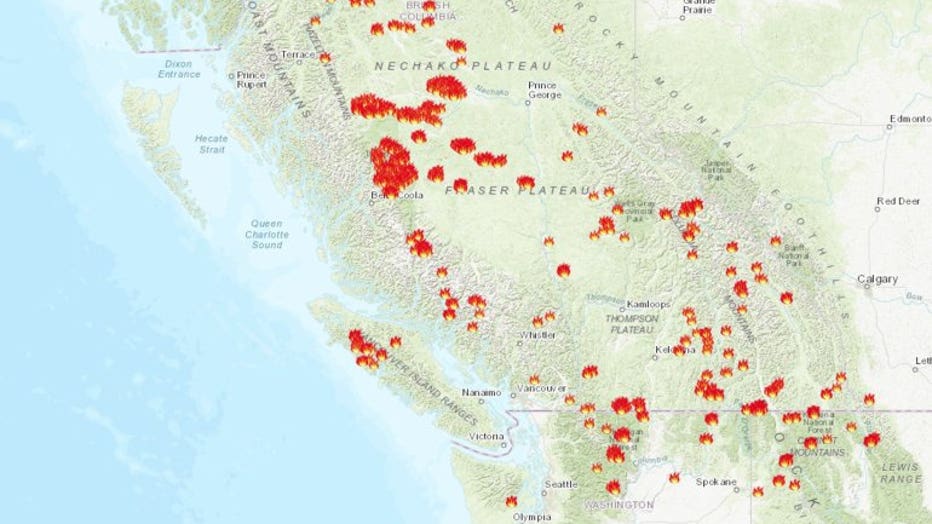 The Puget Sound Clean Air Agency cited the unhealthy air quality to urge people indoors, including healthy adults and those with sensitive health considerations such as children, pregnant women, the elderly and those with heart or lung problems.



A large-scale weather pattern shift will bring cleaner air for the region but that may not happen until late Wednesday night, so smoke may still be visible Thursday.

Q13 News Meteorologist Katie Boer said the forecast calls for a major cooldown to the low 70s by Thursday -- and even cooler with a chance of showers by Sunday.

Katie said we can expect about five days with improved air quality, but smoke will likely return as wildfires continue to burn into fall.




Wildfire smoke can cause a range of health problems, according to health officials:


Western Washington authorities released another joint air quality alert Wednesday asking everyone to take precautions, especially children, older adults, and people who are pregnant, have heart or lung issue or have had a stroke:


A stage 1 burn ban continues for King, Kitsap, Pierce and Snohomish counties: