49ers fans accuse Seahawks fans of 'Unsportsmanlike conduct'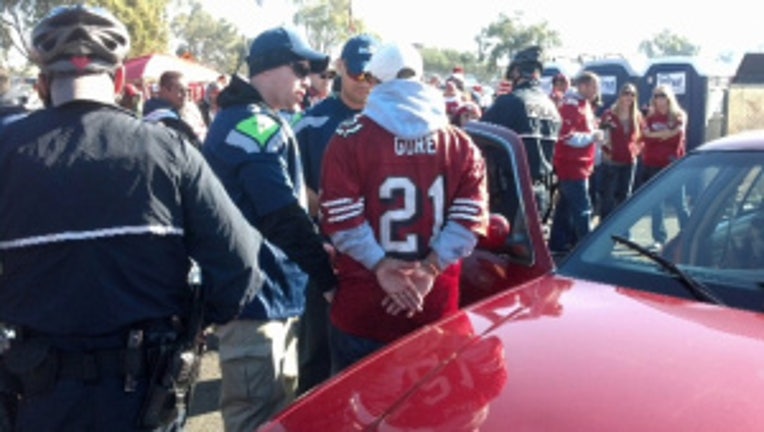 SEATTLE -- I think it's somewhat comical and ironic that San Francisco fans that wrote letters to the editor about the 12th Man, accusing us of  "Unsportsmanlike Conduct"--for daring to scream so loudly, we would set a crowd noise record--could behave the way some did at yesterday's Seahawks and 49ers game.

You know what is really unsportsmanlike? Felony assault.

Thousands of Seahawks fans flocked to San Francisco this weekend for what could have been Russell Wilson's first NFL championship title. It would have been amazing to witness the Seahawks celebrate an NFC West divisional championship on the defending champs' own field.

Instead, Seahawk fans are heading home, reeling from the heartbreaking loss, and in a few cases, mending wounds both spiritually and physically after literally being assaulted by 49er fans.

Before I made the trip, I was warned about the nastiness of the Niner faithful towards opposing teams' fans.

"Be safe"

"Wear a bullet proof vest."

"Watch out. Niner fans lead the league in stabbings".

Those are just a few of the comments fans wrote on my Facebook page. About half of the comments mentioned a concern for my safety. Now I know why.

This was the Seahawks' final game inside ancient and dilapidated Candlestick Park. The concourses are so hopelessly packed with red-clad Niner fans, that you have to just slither along with the mass of humanity. In the midst of this, one female Seahawk fan told me that she was holding on to her husband's belt buckle with a finger to not lose him, while being groped by several 49er fans along the way. She said she was afraid to tell her husband at the time, out of fear that he would react and start a riot in which he would be hopelessly outnumbered.

Right above this testosterone and alcohol-fueled sea of is a sign of a woman in Niner gear, carrying a baby in a sling, also clad in 49er colors with the caption:

"Two generations of 49er class."

For the most part, the 12th Man conducts itself with class. Being a 12 is about Seattle pride. It's about our fanatic love of this franchise, and soaking in the great feelings of this magical season. For longtime Hawk fans like myself, I cannot even fathom getting into a physical altercation with another fan for having a different opinion or for wearing a different colored jersey.  We let our volume do the talking. 

What I witnessed and heard from fans there was mostly very classy. I spent time inside "Niner Empire" Headquarters, which is located in the very popular Mancave Memorabilia store in San Carlos. They are proud and passionate 49er fans who tout the Niners' long winning history and Super Bowl championships. They love to banter good-naturedly with opposing fans, and there's an air of mutual respect.

In the parking lot, and in parts of the stadium itself, the mood can be negative toward any fan wearing the other team's jersey. I heard from fans that told me sometimes the comments crossed the line: threatening taunts, and sexually suggestive comments to female fans.

Before and after the game, several Seahawks fans were involved in altercations with Niner fans. I saw one fight where one Seahawk fan was being attacked by two men in Niner jerseys. There were at least three other fights in which Hawk fans were injured, according to witness accounts. One witness told me that a one Seahawk fan was goaded into a fight, and ended up getting beaten up by several different men in 49er colors. I can't say who was really responsible for the instigation of these fights, but I can tell you the words of warning I received before the trip was well-warranted at Candlestick Park.

I love San Francisco. It's one of my favorite cities in the world. I have many friends and have been fortunate to spend a lot of time in The City. I had a great time with most every Niner fan I encountered.

The thing about one bad apple is really true. There's a few bad apples hanging around The Stick. San Francisco police are out in force for Niner games. They clearly know that it can be dangerous. At least one man in a 49er jersey was arrested for aggressively harassing a man in a Seahawks jersey, who happened to be an undercover cop. Seattle police employ the same strategy at Seahawks games, and I have not caught wind of any significant altercations between fans at CenturyLink Field this season.

The Niners begin play at a brand new, state-of-the-art stadium next season in Santa Clara. Maybe with the change of scenery and shiny new digs, the thuggery can be cleaned up as well.