$36,000 reward offered after possible 6th attack on Jehovah's Witness Kingdom Halls


LACEY, Wash. -- Authorities are offering a $36,000 reward after what could be a sixth attack on Jehovah's Witness Kingdom Halls in Thurston County, Washington.

Fire ripped through a Jehovah's Witness Kingdom Hall early Friday morning in Lacey. It's the latest incident at a Kingdom Hall this year.

Lacey firefighters told Q13 News that someone called 911 just before 3:45 a.m. and multiple agencies are at the scene.  There were no reports of anyone being injured.

The Thurston County Sheriff says its detectives and agents from the Bureau of Alcohol, Tobacco, Firearms and Explosives are investigating.




A task force has been looking into attacks targeting several Kingdom Halls in the last year in Thurston County. A hall in Olympia was set on fire twice -- and destroyed by the second fire. In Yelm, shots were fired into the hall back in March. So far, nobody has been hurt in these attacks.

ATF agents have told Q13 News in the past that it's only a matter of time before someone is hurt or killed.

The incidents: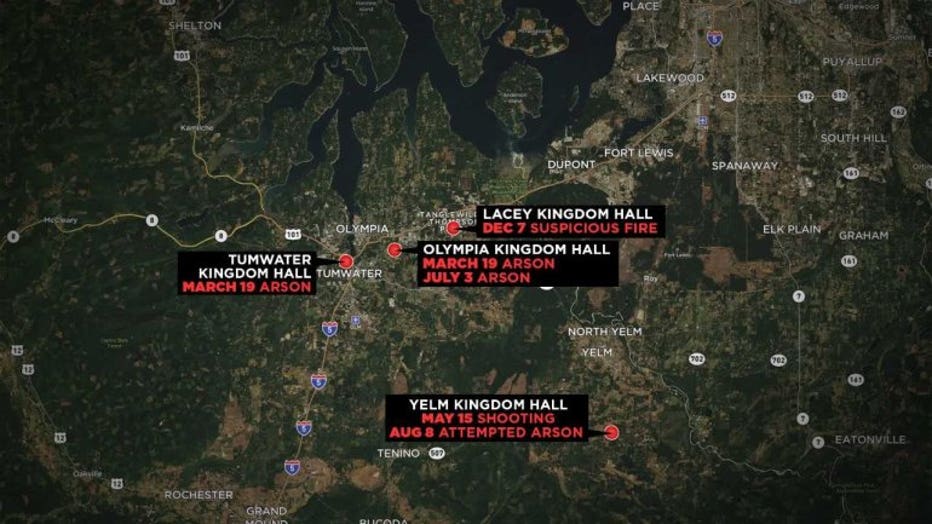 The ATF has in the past said it believes these incidents were meant to send a message. Authorities said the suspect may have a grievance related to the Jehovah's Witness community. The suspect also may have altered their appearance since the arsons began.

"We take events at houses of worship very seriously and are appealing to those who live in and around Thurston and the surrounding counties to partner with us in protecting their communities in this investigation," Seattle AFT agent Derek Pleasant said.

No injuries have been reported in any of the incidents, but "it is inevitable that innocent people will be injured or killed if these incidents go unchecked," Pleasant said.

Anyone with information on the fires of the shooting should call ATF's toll-free hotline at 888-ATF-TIPS, Crime Stoppers of South Sound at 1-800-222-TIPS, or the Arson Alarm Foundation at 1-800-55-ARSON.