$36,000 reward for suspect who burned 3 Jehovah's Witnesses churches in Thurston County


OLYMPIA, Wash. -- Four recent attacks on Kingdom Halls of Jehovah's Witnesses in Thurston County are being investigated as hate crimes.

Over the past four months, police say someone set fire to two Kingdom Halls in Tumwater and Olympia, and fired dozens of rounds into a Kingdom Hall in Yelm.

The Kingdom Hall in Olympia was recently destroyed by fire.

"It's a sad thing to see that a community building like this would be damaged by one person and their drive," said church elder David Norman. "We live in difficult times now."

Authorities want to talk to the man featured in the photo gallery below. They are not calling him a suspect, but a person of interest. He recently bought firewood starter logs used in the July 3 fire at the Olympia Kingdom Hall.



At a press conference Wednesday, the Bureau of Alcohol, Tobacco, Firearms and Explosives along with the Thurston County Sheriff's Office and the Arson Alarm Foundation announced a $36,000 reward for the suspect.

"We simply cannot tolerate these types of hate crimes and we must investigate and prosecute those responsible aggressively," said Olympia Police Chief Ronnie Roberts.

Not only have these crimes have had a tremendous impact on the religious community in Thurston County, it's also touched those who live nearby. Neighbors near Olympia's Kingdom Hall attached letters of love and support to a fence that surround the burned out structure.

"It has been amazing the way community been supportive," said Norman. "The signs are only an indicator of the kind of love and empathy shown by community. It has been amazing to see people rally to help congregation."

The incidents: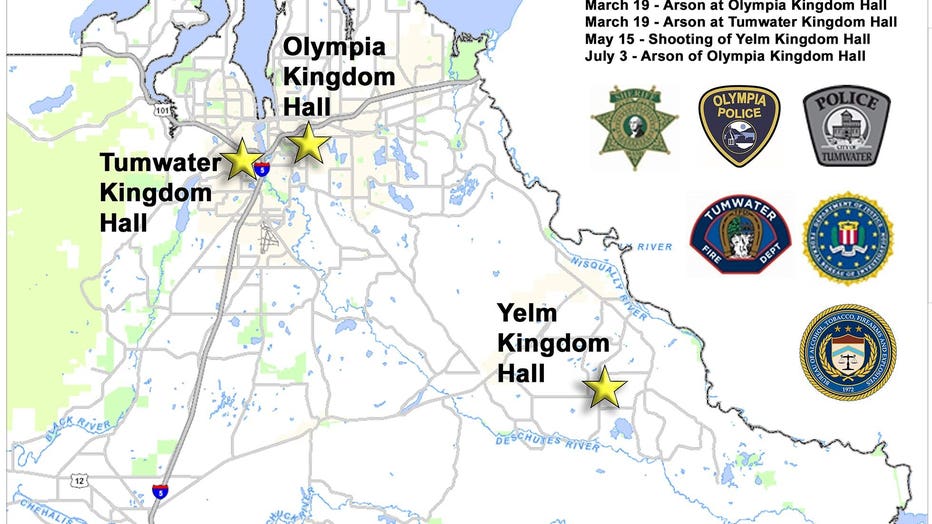 Authorities haven't physically linked these crimes together by evidence but they do believe the same suspect is involved in each crime.

The ATF believes these incidents were meant to send a message. Authorities said the suspect may have a grievance related to the Jehovah's Witness community. The suspect also may have altered their appearance since the arsons began.

"We take events at houses of worship very seriously and are appealing to those who live in and around Thurston and the surrounding counties to partner with us in protecting their communities in this investigation," Seattle AFT agent Derek Pleasant said.

No injuries have been reported in any of the incidents, but "it is inevitable that innocent people will be injured or killed if these incidents go unchecked," Pleasant said.

Anyone with information on the fires of the shooting should call ATF's toll-free hotline at 888-ATF-TIPS, Crime Stoppers of South Sound at 1-800-222-TIPS, or the Arson Alarm Foundation at 1-800-55-ARSON.