Forklift driver arrested for DUI in deadly crash in Greenwood
SEATTLE - One person was killed and two others were injured following a crash involving a forklift, an SUV and a landscape truck in Seattle's Greenwood neighborhood. 
Seattle Fire Department responded to the intersection of Aurora Ave. N and N. 96th St. around 3:27 p.m. for reports of a crash. Dispatch initially went out as at least two people were trapped in a vehicle. 
Firefighters removed the roof of one of the vehicles and got the other occupants out. 
According to Seattle Police, the driver of the forklift got onto Aurora Avenue and kept driving until it crashed into an SUV. That SUV, in turn, crashed into a landscape truck. 
The two people in the SUV and the landscape truck driver were all taken to the hospital. The 25-year-old passenger in the SUV was taken to the hospital in critical condition, but she later died from her injuries. The 27-year-old driver of the SUV was sent to the hospital in serious condition. 
The 30-year-old driver of the landscape truck was driven to the hospital and was in stable condition.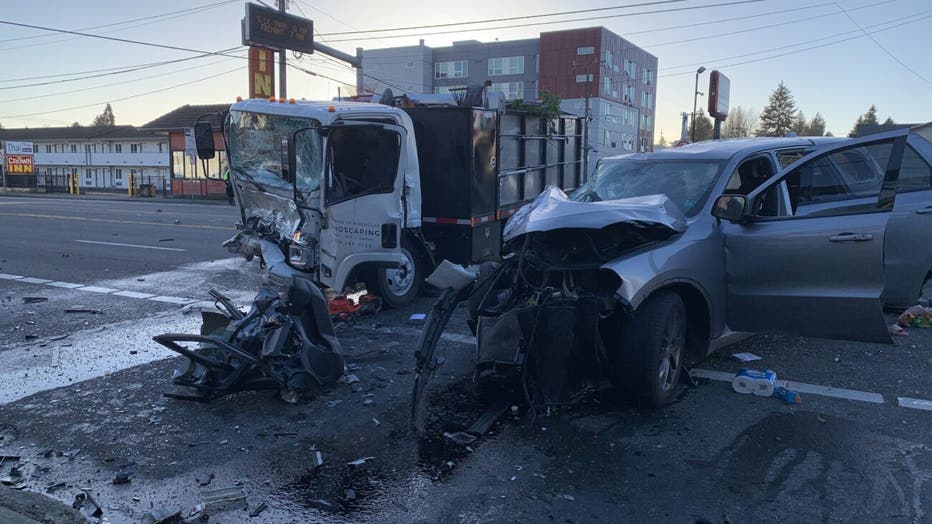 Officials tell FOX 13 that the forklift driver was arrested for DUI. 
Police will book the forklift driver into King County Jail for vehicular homicide and Traffic Collision Investigation Squad Detectives will continue to investigate this incident.