3 in 4 King County homeowners would see taxes jump under new budget, assessor says
SEATTLE - As state lawmakers prepare to pass an expansive budget deal, at least one county assessor is warning the budget will cost most homeowners hundreds.

"This budget only makes the housing affordability crisis worse in King County," King County Assessor John Wilson said. "This is a massive tax shift onto the backs of our residents. It is well past time for a conversation about the structure and modernization of our tax system."

According to the assessor's office, about 73 percent of homeowners in King County will see a tax increase. About 63 percent will see a tax increase of $400 or more annually.

The new, $43.7 billion budget includes a plan to add $7.3 billion over the next four years to education.

The assessor's office said some property taxes will decrease over the next four years, given a cap placed on local levies used to fund schools. But the flat increase in a state property taxes proposed in the budget means many will pay more.

Estimated property tax impacts on median residential values by school district in 2021: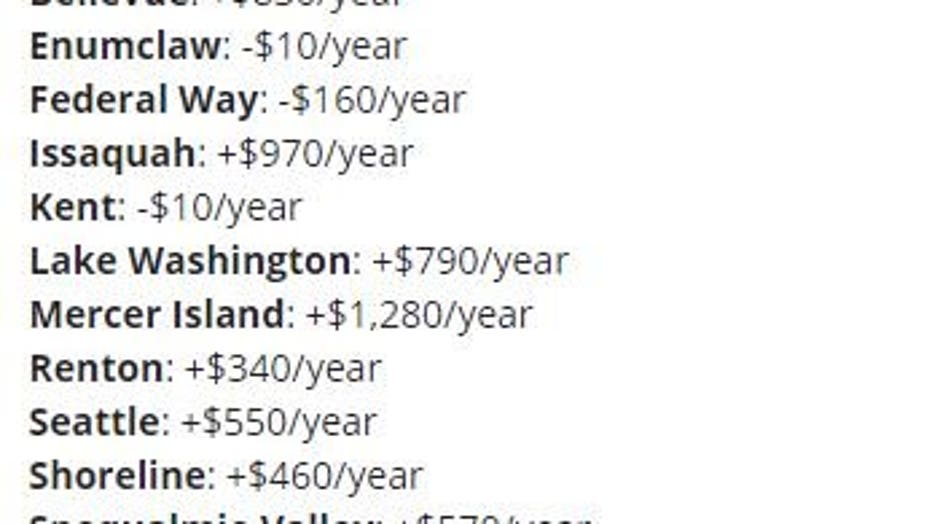 Seniors who qualify for the senior citizen's exemption program will not have to pay the increase.

Pierce County Assessor Mike Lonergan said he hasn't calculated how individual districts will fare, but he anticipates something similar to King County. Affluent areas that pay a smaller percentage in property taxes in local school levies will see a big increase. But places like Tacoma will see a property tax decrease.

"I can imagine homes in the Peninsula School District will pay a lot more," Lonergan said.

Many districts in Thurston County will break even on the plan, the Tacoma News Tribune reports.

King County Executive Dow Constantine says putting the state's education on the backs of property owners could hurt local governments.

"They chose to use property taxes, the primary funding source for critical local government services like public safety and public health," Constantine said. "This will make it even harder for King County to provide vital services for a rapidly growing urban region."

For more on the proposed budget, head to Q13 News' main budget story.