3 firefighters killed, 4 injured in fast-shifting wildfire near Twisp


TWISP, Wash. — Three firefighters were killed and four others were injured Wednesday while battling a raging wildfire near the town of Twisp in north-central Washington, Okanogan County Sheriff Frank Rogers said.

The sheriff said the wind suddenly shifted and the U.S. Forest Service firefighters became trapped as the Twisp River Fire was turned back on them.

"The firefighters were engaged in initial attack operations and were involved in a vehicle accident when it is believed that the fire overtook the vehicle," the U.S. Forest Service said in a release late Wednesday night.

"We are devastated by the tragic loss of three of our Forest Service firefighters," said Mike Williams, Forest Supervisor on the Okanogan-Wenatchee National Forest.  "We are working with county and state partners to notify the families of those lost.  Our hearts and prayers go out to the families and fellow crew members of these brave firefighters."




Of the four injured firefighters, one worked for the Forest Service, two worked for the state Department of Natural Resources and one was a DNR contractor.

Rogers said the four injured firefighters suffered burns and were transported from the scene. Rogers said they are expected to survive their injuries.




One of the injured firefighters, a 25-year-old, was airlifted to Seattle's Harborview Medical Center, where he was listed in critical condition.

White House Principal Deputy Press Secretary Eric Schultz said President Barack Obama was updated Wednesday evening on the tragic loss of three Washington firefighters.

"On behalf of a grateful nation, the President's thoughts and prayers are with the families of these brave Americans," Schultz said.

The president directed his team to stay in close touch with state and local officials as their efforts to fight these fires continue, Schultz said.

Rogers said the fire started off the Twisp River Road earlier Wednesday, and they don't know yet how it started.  He said the fire has burned some buildings and was still moving southeast toward the town of Twisp.

State fire assistance was mobilized late Wednesday afternoon to fight the Twisp Fire, which has burned more than 50 acres and was threatening 50 to 100 homes as well as the town of Twisp.

Rogers explained how the shifting winds played a key role in the tragedy in this phone interview:




Firefighters braced for high winds in the forecast through Friday that threatened to stoke wildfires burning across Eastern Washington.

The National Weather Service issued a red flag warning for the eastern portion of the state from 11 a.m. Wednesday to 5 p.m. Friday.

Gov. Jay Inslee planned to travel to Chelan on Thursday to review the devastation from fires there, his office said Wednesday night.

Inslee requested a federal Emergency Declaration to provide additional resources to cover some of costs related to multiple wildfires burning in Eastern Washington.

The governor's request was sent to Obama through the Federal Emergency Management Agency, and pointed out that currently 11 counties and four tribes are affected or threatened by fires. Officials have confirmed that the fires have already destroyed more than 50 homes, 60 other structures, and more than 235,000 acres of land.

Inslee had earlier issued this statement about the firefighters' deaths and injuries.:

"I know all Washington joins me and Trudi in sending our prayers to the families of these brave firefighters. They gave their lives to protect others. It was their calling, but the loss for their families is immense and I know the community will come together to support them. We will also keep the injured firefighters in our prayers. The conditions throughout the area remain extremely dangerous and I hope residents and visitors will heed evacuation orders or other emergency directions."

The tragedy Wednesday wasn't the first time that firefighters lost their lives battling wildfires in Washington. On July 10, 2001, four U.S. Forest Service firefighters died while battling the Thirty Mile Fire in Okanogan County. That was the second deadliest fire in Washington history. In 1974, five firefighters died when a vehicle overturned.

Okanogan County on Wednesday and Wednesday night ordered everyone in the towns of Winthrop, Twisp and Riverside and the Omak Flats Area to evacuate as wildfires were endangering those areas.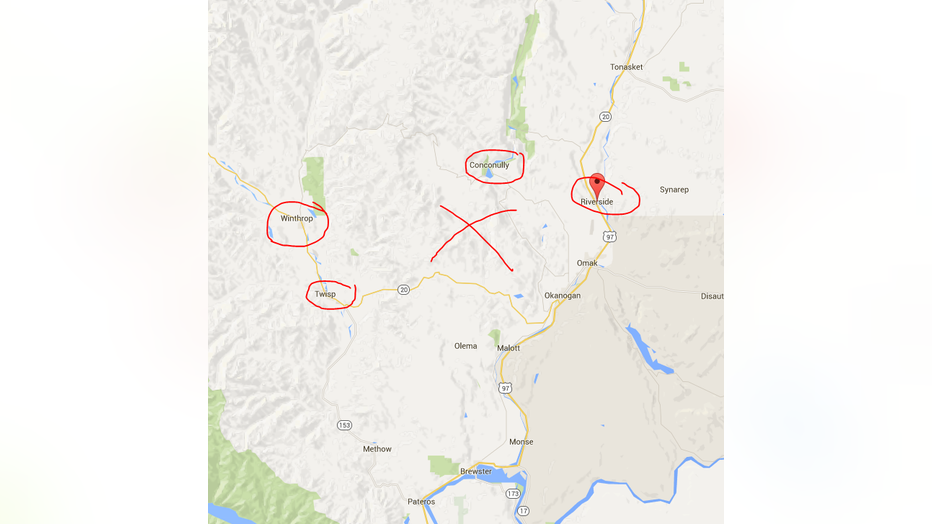 The town of Conconully, also in Okanogan County, was ordered to evacuate Tuesday night.

Twisp and Winthrop are west of Omak and Riverside.

"The towns of Winthrop and Twisp are being evacuated immediately," Okanogan County tweeted Wednesday afternoon. "People evacuating from both towns should head south."

Twisp, which has a population of about 940, is the largest town in Washington's Methow Valley. Winthrop has a population of about 400.

The  town of Conconully still stood Wednesday, less than 24 hours after everyone was ordered to evacuate as a fast-moving wildfire moved toward the municipality.

An immediate evacuation order was issued Tuesday night for the entire town. On Wednesday morning, officials reported lots of smoke, but all buildings and homes were still standing.

Conconully has a population of about 210 people in Okanogan Conty.

The Okanogan Complex Fire that affected Conconully has burned nearly 31,000 acres in north-central Washington since it was started by lightning last Saturday, state officials said Tuesday. The fire is burning both trees and brush.

The Okanogan Complex is made up of the Lime Belt Fire, the Blue Lake Fire, the Tunk Block Fire, the Beaver Lake Fire. The 4,204 acre Nine Mile Fire is also being managed under the complex.