3 dead after fiery single-car crash in Puyallup, investigation underway
PUYALLUP, Wash. - Police are investigating a deadly car crash in Puyallup that killed three people early Saturday morning. 
According to the Puyallup Police Department (PPD), just before 5:00 a.m., a homeowner called 911 saying that a car had crash-landed onto his yard and was on fire.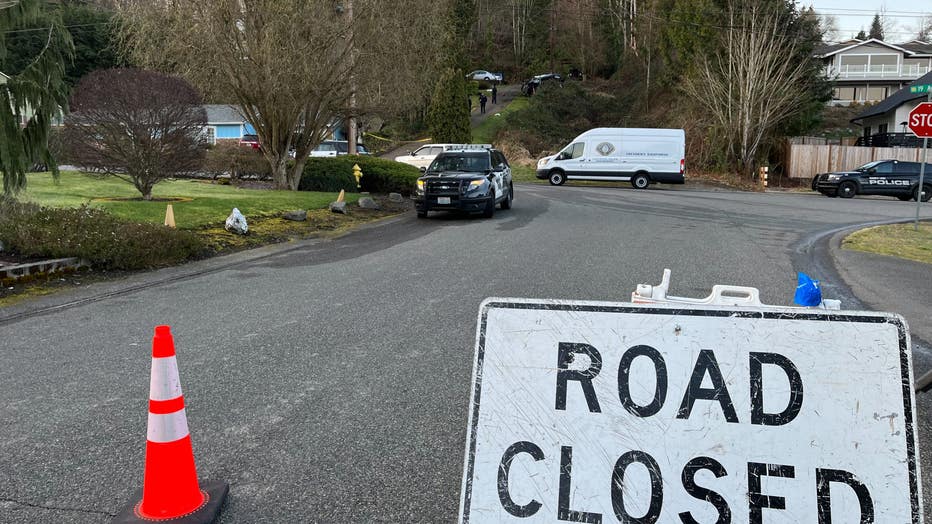 Photo: FOX 13's Nikki Torres
Officers arrived at the scene near the corner of 19th Ave. SE and 3rd St. SE, and found a car on fire, flipped on its side. Authorities say three people were trapped inside, and unconscious. They tried extinguishing the flames, but were unsuccessful. 
Firefighters arrived and were able to knock down the flames and pull the victims out of the wreckage, but they were declared dead at the scene.
Authorities closed off roadways to investigate, but they have since reopened.
According to the PPD, the three victims were confirmed to be a 24-year-old woman, a 24-year-old man and a 27-year-old man.
Investigators say the car was driving northbound on 3rd St. SE, when it crashed through multiple trees and launched off the dead end – coming to a rest in the residential yard. They have confirmed that speed was a factor in this crash.
Investigators also say that evidence of alcohol and cannabis use was found inside the wrecked car.
The PPD says it could take up to a month for investigators to release a toxicology report to see if the driver was under the influence.
This is a developing story, check back for updates.