24 people now believed dead in Oso landslide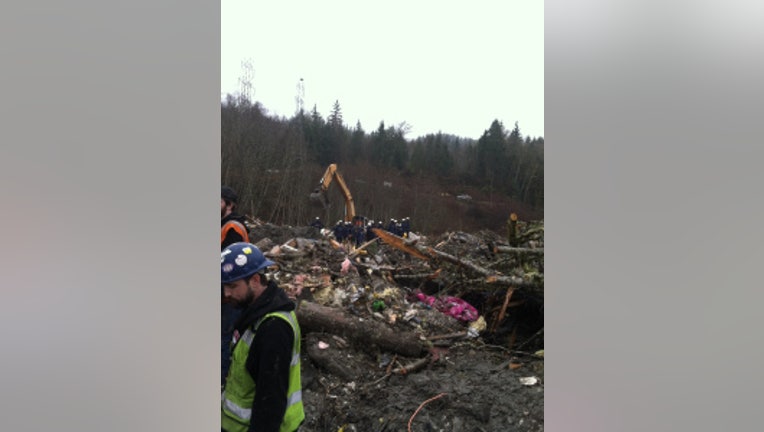 Day four of the search and rescue in the slide zone

It's a day started the way yesterday ended.

"Yesterday I reported that we didn't find any signs of life and I'm saddened to tell you that is the case again today," Snohomish County Fire Chief Travis Hots said.

It started bad and just got worse with the discovery of additional fatalities.

On the debris field today some 156 people; search and rescue, volunteers and family members.

But conditions there, that had started to improve yesterday, deteriorated today with heavy rain that made a difficult environment even worse.

"We've got a lot of uneven ground out there, we got nails sticking up, you have areas where you could actually fall into five or six feet of water that is covered by light debris," Chief Hots said.

Hots made his way to the area for the first time today and he still can't believe what he's seen.

"I pictured vehicles parked there and if someone was in their vehicle when the mudslide came, that we would just dig through the mud and pulled them out of their car and they'd be ok, but what we're finding is these vehicles are like twisted and torn up into like pieces," Hots said.

More help is on the way including a 50 person National Guard search team and a 70 member FEMA urban search and rescue team.

There are so many people new volunteers are being discouraged.

Professional search crews, volunteers, family members and friends are all said to be working well together but it is the search dogs making the biggest difference.

"What's been most effective tools have been dogs and our bare hands and shovels and uncovering people, but the dogs are the ones that are pin pointing a particular area to look and we're looking and that's how we're finding people," Hots said.



Finally today a new 24 hour crisis, counseling and intervention hotline has been established, the number is 800 - 584 – 3578.

It's not just for victims and relatives but for everyone.

"This is something that is established for us as a community. I'm impacted, personally. you're impacted because I see it on your faces and this is for individuals who are struggling with how to deal with this. We're all parents or brothers and sisters or husbands and when we hear about the loss of life it eventually catches up to us... and it's very important that we all begin that process of addressing that," Snohomish County Director of Emergency Management John Pennington said.