22 toys ranked from least to most dangerous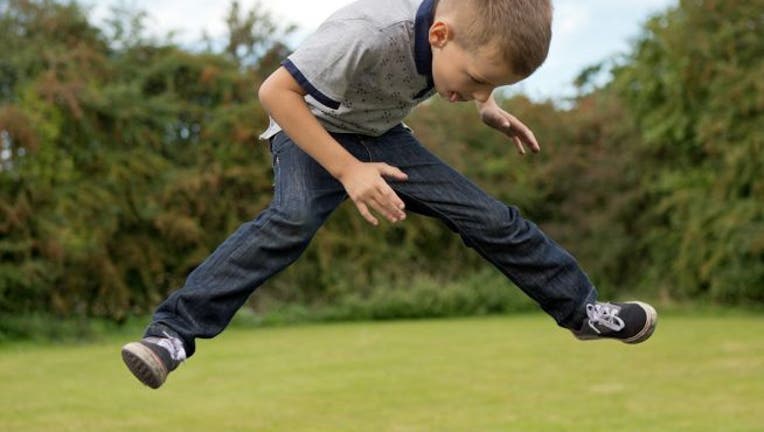 With the holiday season upon us, gift-giving is in full swing. Though generally an exciting time, holiday shopping can also cause anxiety — especially when buying for little ones. When browsing the toy aisle, many questions may come to mind: Is the toy age appropriate? Is it high-quality without breaking the bank?

In addition to these concerns, safety is top priority. Not all toys are created equally; some types of toys are far more dangerous than others.

According to Newsweek, a study published in the journal Clinical Pediatrics reported that every three minutes a child is treated in the emergency room for a toy-related injury. The researchers used information from the National Electronic Injury Surveillance Survey (NEISS), which compiled data from approximately 100 hospitals nationwide between 1990 and 2011.

With this in mind, the experts at HealthGrove used data from the same source (NEISS) to rank 22 categories of toys from least to most safe. If you're looking for safe, kid-friendly gifts this holiday season, you might want to steer clear of the list's chart-toppers.

#22. Stilts

 



Average Annual Injuries: 139
Percent of Injuries to Males: 67.6%
Percent of Injuries to Females: 32.4%
Most Common Body Part Injured: Ankle

#21. Kites

 

[findthebest id='UKDtsUHluB' title='Kites - Injuries by Year' width='600' height='500' url='https://w.graphiq.com/w/UKDtsUHluB' link='http://conditions.healthgrove.com/stories/9238/most-dangerous-toys' link_text='Kites - Injuries by Year | FindTheBest']

Average Annual Injuries: 265
Percent of Injuries to Males: 75.8%
Percent of Injuries to Females: 24.2%
Most Common Body Part Injured: Ankle

#20. Slingshots

 



Average Annual Injuries: 275
Percent of Injuries to Males: 74.5%
Percent of Injuries to Females: 25.5%
Most Common Body Part Injured: Eye

#19. Pogo Sticks

 

[findthebest id='99KZzdPgczH' title='Pogo Sticks - Injuries by Year' width='500' height='525' url='https://w.graphiq.com/w/99KZzdPgczH' link='http://conditions.healthgrove.com/stories/9238/most-dangerous-toys' link_text='Pogo Sticks - Injuries by Year | FindTheBest']

Average Annual Injuries: 1,358
Percent of Injuries to Males: 60.5%
Percent of Injuries to Females: 39.5%
Most Common Body Part Injured: Head

#18. Marbles

 



Average Annual Injuries: 1,496
Percent of Injuries to Males: 59.4%
Percent of Injuries to Females: 40.5%
Most Common Body Part Injured: Internal

#17. Toy Vehicles

 



Note: Our data source changed its product categorization scheme in January 2010, resulting in the spike seen in the visualization.

Average Annual Injuries: 3,040
Percent of Injuries to Males: 78.5%
Percent of Injuries to Females: 21.5%
Most Common Body Part Injured: Finger

#16. Blocks and Other Building Toys

 



Average Annual Injuries: 3,127
Percent of Injuries to Males: 70.6%
Percent of Injuries to Females: 29.3%
Most Common Body Part Injured: Face

#15. Dolls

 

[findthebest id='7lYtBQ08zQ1' title='Dolls - Injuries by Year' width='500' height='525' url='https://w.graphiq.com/w/7lYtBQ08zQ1' link='http://conditions.healthgrove.com/stories/9238/most-dangerous-toys' link_text='Dolls - Injuries by Year | FindTheBest']

Note: Our data source changed its product categorization scheme in January 2010, resulting in data for this product beginning in 2010.

Average Annual Injuries: 3,316
Percent of Injuries to Males: 43.3%
Percent of Injuries to Females: 56.7%
Most Common Body Part Injured: Face

#14. Wagons

 



Average Annual Injuries: 4,268
Percent of Injuries to Males: 56.5%
Percent of Injuries to Females: 43.4%
Most Common Body Part Injured: Head

#13. Frisbees

 

[findthebest id='1RiUdkJ60rX' title='Frisbees - Injuries by Year' width='500' height='525' url='https://w.graphiq.com/w/1RiUdkJ60rX' link='http://conditions.healthgrove.com/stories/9238/most-dangerous-toys' link_text='Frisbees - Injuries by Year | FindTheBest']

Average Annual Injuries: 5,563
Percent of Injuries to Males: 75.0%
Percent of Injuries to Females: 25.0%
Most Common Body Part Injured: Face

#12. Waterslides

 



Average Annual Injuries: 5,721
Percent of Injuries to Males: 48.1%
Percent of Injuries to Females: 51.9%
Most Common Body Part Injured: Head

#11. Fireworks and Model Rockets

 



Average Annual Injuries: 6,274
Percent of Injuries to Males: 72.3%
Percent of Injuries to Females: 27.7%
Most Common Body Part Injured: Eye

#10. Snow Mobiles

 

[findthebest id='l5Ep66bK0jb' title='Snow Mobiles - Injuries by Year' width='500' height='525' url='https://w.graphiq.com/w/l5Ep66bK0jb' link='http://conditions.healthgrove.com/stories/9238/most-dangerous-toys' link_text='Snow Mobiles - Injuries by Year | FindTheBest']

Average Annual Injuries: 7,766
Percent of Injuries to Males: 77.7%
Percent of Injuries to Females: 22.3%
Most Common Body Part Injured: Lower Trunk

#9. Go Carts

 



Average Annual Injuries: 10,716
Percent of Injuries to Males: 71.2%
Percent of Injuries to Females: 28.8%
Most Common Body Part Injured: Head

#8. Sleds

 

[findthebest id='fAYPHAUHqV7' title='Sleds - Injuries by Year' width='500' height='525' url='https://w.graphiq.com/w/fAYPHAUHqV7' link='http://conditions.healthgrove.com/stories/9238/most-dangerous-toys' link_text='Sleds - Injuries by Year | FindTheBest']

Average Annual Injuries: 19,118
Percent of Injuries to Males: 57.0%
Percent of Injuries to Females: 43.0%
Most Common Body Part Injured: Head

#7. Toy Guns

 



Average Annual Injuries: 20,604
Percent of Injuries to Males: 79.1%
Percent of Injuries to Females: 20.9%
Most Common Body Part Injured: Face

#6. Scooters

 

[findthebest id='gY9e3dJszLD' title='Scooters - Injuries by Year' width='500' height='525' url='https://w.graphiq.com/w/gY9e3dJszLD' link='http://conditions.healthgrove.com/stories/9238/most-dangerous-toys' link_text='Scooters - Injuries by Year | FindTheBest']

Average Annual Injuries: 32,887
Percent of Injuries to Males: 60.4%
Percent of Injuries to Females: 39.6%
Most Common Body Part Injured: Face

#5. Rollerblades

 



Average Annual Injuries: 41,501
Percent of Injuries to Males: 35.6%
Percent of Injuries to Females: 64.4%
Most Common Body Part Injured: Wrist

#4. Fishing Equipment

 

[findthebest id='bttEEIsq0nz' title='Fishing Equipment - Injuries by Year' width='500' height='525' url='https://w.graphiq.com/w/bttEEIsq0nz' link='http://conditions.healthgrove.com/stories/9238/most-dangerous-toys' link_text='Fishing Equipment - Injuries by Year | FindTheBest']

Average Annual Injuries: 46,759
Percent of Injuries to Males: 80.9%
Percent of Injuries to Females: 19.1%
Most Common Body Part Injured: Finger

#3. Trampolines

 



Average Annual Injuries: 64,554
Percent of Injuries to Males: 52.2%
Percent of Injuries to Females: 47.7%
Most Common Body Part Injured: Ankle

#2. Skateboards

 

[findthebest id='jIu0KtmYRsF' title='Skateboards - Injuries by Year' width='500' height='525' url='https://w.graphiq.com/w/jIu0KtmYRsF' link='http://conditions.healthgrove.com/stories/9238/most-dangerous-toys' link_text='Skateboards - Injuries by Year | FindTheBest']

Average Annual Injuries: 67,647
Percent of Injuries to Males: 87.4%
Percent of Injuries to Females: 12.6%
Most Common Body Part Injured: Ankle

#1. Bicycles and Tricycles

 



Average Annual Injuries: 416,052
Percent of Injuries to Males: 73.8%
Percent of Injuries to Females: 26.1%
Most Common Body Part Injured: Head