20-vehicle crash shuts down snowy I-5 in Oregon
ALBANY, OR (KPTV) -As many as 20 cars were involved in a crash on Interstate 5 between Salem and Albany on Thursday morning.

Interstate 5 southbound is closed three miles north of Albany as a result of the crash, and a detour at Old Salem Road is in place for all cars except overweight vehicles.

There were no reports of significant injuries from the pileup.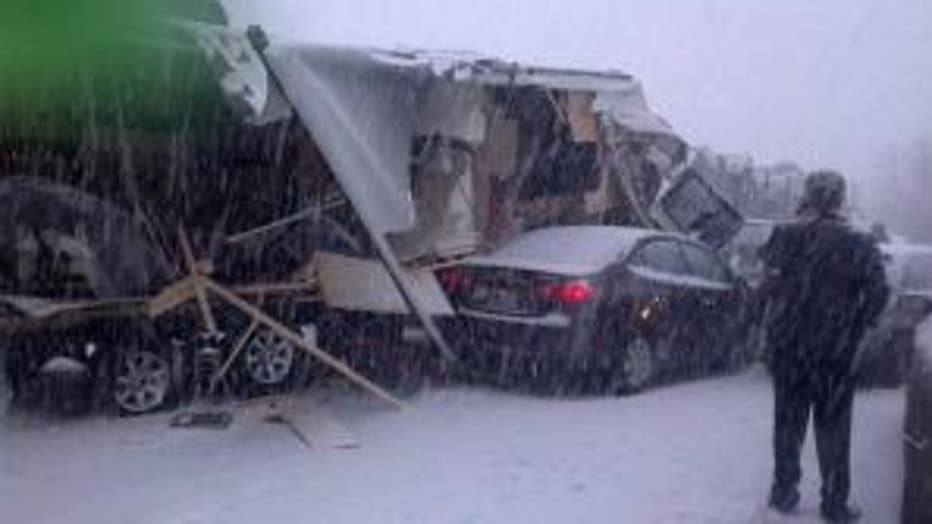 "The snow kind of came out of nowhere and it really got icy," said Shawn Dodd, who was involved in the crash while heading from Vancouver to Albany. "A motorhome started twirling around and people tried to avoid it and it didn't work out so well for a lot of people."

Oregon State Police troopers said there are also several smaller crashes on I-5.

In fact, I-5 northbound was blocked eight miles south of Albany because of a multiple-vehicle crash. As of 9:50 a.m., one lane of travel was open.

ODOT briefly issued a chain requirement for the Linn County area, but it has since lifted it.

Drivers should avoid the area or expect delays; or better yet, delay or cancel travel if possible.

"The message to motorists is simple: If you can avoid driving on the roads or highways in the next day and a half or so, do it. Otherwise, be prepared. Have extra clothing. Have blankets. Have extra water," said Rick Little, an ODOT spokesman.

For those considering driving, ODOT shared the following tips: