2 workers hurt when crane collapses onto house in Issaquah
ISSAQUAH, Wash. - Two workers were hurt Tuesday morning when a crane collapsed onto a home in Western Washington.
According to Eastside Fire & Rescue, the crane fell onto the house on SW Edgewood Court in Issaquah.
Battalion Chief Mark Vetter, with East Fire and Rescue, says one of the workers was taken to the hospital, another one had minor injuries and stayed on scene.
"This is my worst nightmare come true. It's like I almost wasn't surprised," said Trista Oliva the owner of the home.
Oliva worked from home Tuesday while a crew with Eastside Tree Works attempted to remove a massive tree from her property.
She says her daughter warned the tree was falling, and the family ran for safety.
"I've just stopped shaking because I was so worried about my kids, and my pets, and the crew," she said.
Crews with the Washington State Department of Labor and Industries began the investigation into the incident. 
The massive vertical crane truck will remain in front of the home throughout the night. Crews will work to see if they can remove it in the morning.
Photos and video from the scene showed the crane resting on the house and the truck standing up vertically.
The owner of Eastside Tree Works released this statement to Q13 News regarding the incident:
"First of all, we are grateful that there were no serious injuries and that everyone is going home to their families tonight. We are thankful that the family whose home we were working at are uninjured. We would like to thank the community and our clients, as so many people reached out today to check on the safety of our team. 
We have rigorous safety training and protocols in place to prevent accidents, and the cause of this incident is currently being investigated."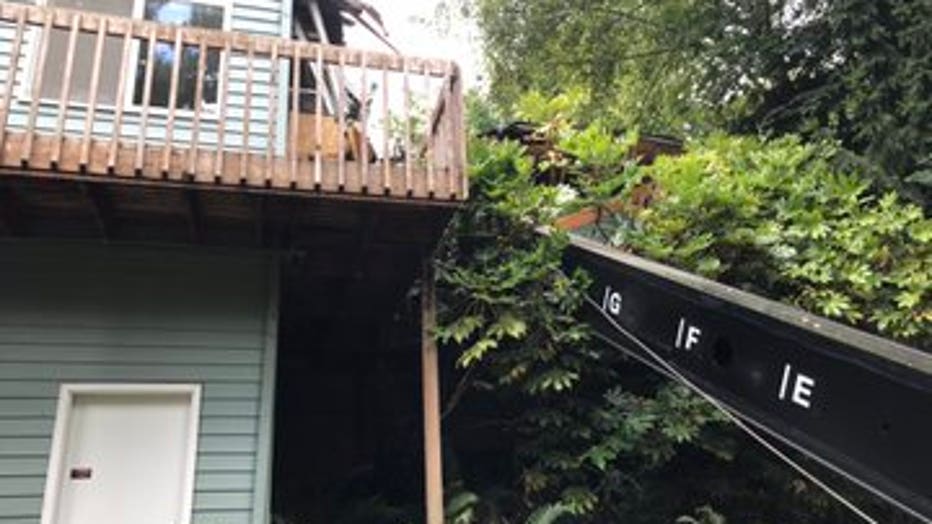 Photo credit: Eastside Fire & Rescue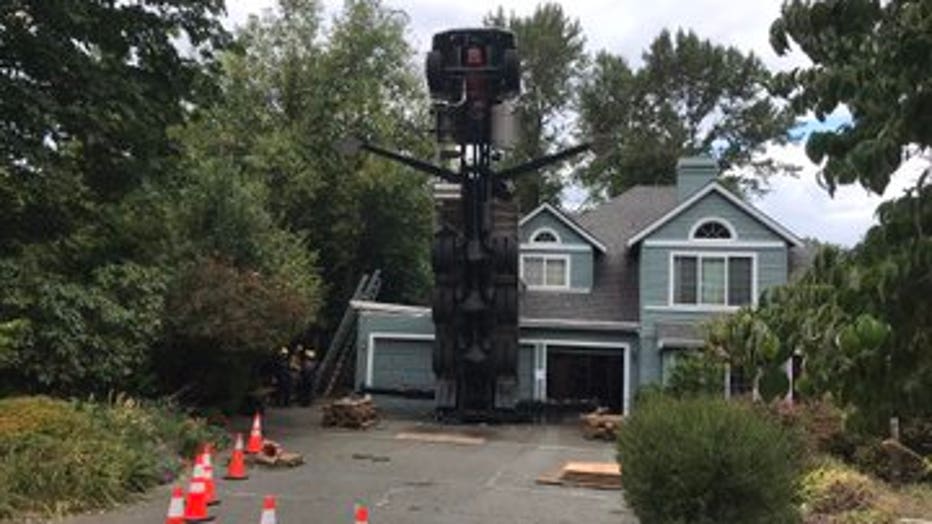 Photo credit: Eastside Fire & Rescue
READ NEXT: CDC sees 'rapid increase' of severe illnesses from ivermectin use for COVID-19
Stay connected with Q13 News on all platforms:
DOWNLOAD: Q13 News and Weather Apps
WATCH: Q13 News Live
SUBSCRIBE: Q13 FOX on YouTube
DAILY BRIEF: Sign Up For Our Newsletter
FOLLOW: Facebook | Twitter | Instagram