2 new coronavirus cases in Washington: Snohomish Co. high school student and King Co. woman


 

SHORELINE, Wash. -- State health officials on Friday announced two new cases of novel coronavirus in Washington state, a King County woman who recently traveled to South Korea and a Snohomish County high school student whose school will be closed and sanitized.

The new cases are labeled as "presumptive positives," meaning the patients tested positive at a state lab and the results are awaiting confirmation by the Centers for Disease Control and Prevention (CDC).

Officials say the Snohomish County case involves a Jackson High School student who is currently in home isolation. The student has no recent travel history and the CDC labeled the case as a "possible instance of community spread," meaning the source of the infection is unknown.

Everett Public Schools said that Jackson High School will be closed for three days through Monday, March 2 for sanitization. The district said that family and students who came in contact with the student will be tested if they develop symptoms.

State health officials said the second new COVID-19 case involves a woman in King County who recently traveled to South Korea. It's the first known case in the county.

State health officials said the woman is also in home isolation.

Neither patient is seriously ill, officials said.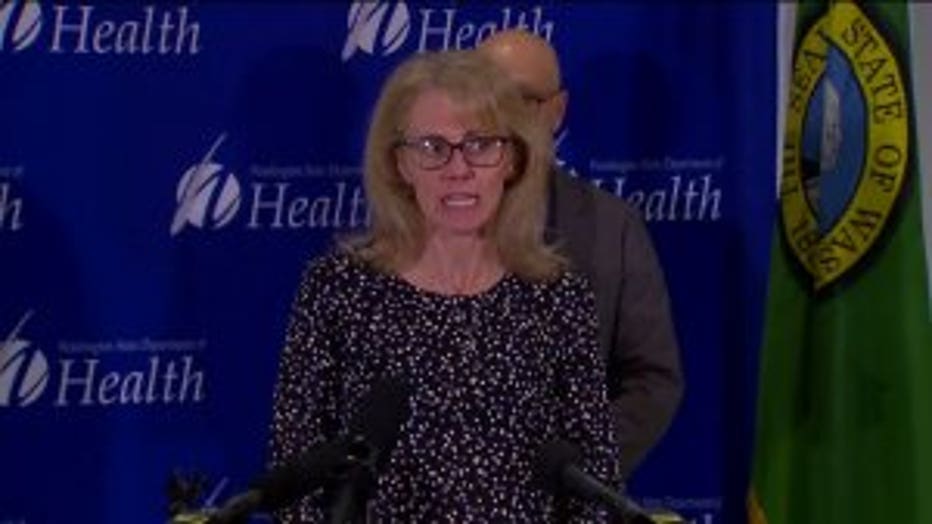 State Health Officer Dr. Kathy Lofy speaks during a press conference on COVID-19 in Shoreline, Wash. on Feb. 28, 2020. Health officials announced two new cases of the 2019 novel coronavirus, one involving a high school student in Snohomish County and


"While the King County case is believed to be travel-related, we don't know how or where the new Snohomish County case was infected," a release from the Washington State Department of Health says. "We are working hard to find and identify how the patients were exposed as well as tracing people who might have been exposed to this patient."

The new Snohomish County case would be the fourth instance of community spread in the country, the CDC said. There are two possible instances in California and one that was announced earlier on Friday in Oregon. 

Until Friday, there had only been one known case of the 2019 novel coronavirus in Washington. A Snohomish County man who traveled to Wuhan, China was the first confirmed case in the country. He had fully recovered as of Feb. 21.

"Now that we are able to expedite test results here at the Public Health Lab, we're getting results on suspected local cases a lot faster," said State Health Officer Dr. Kathy Lofy. "Given the extent of global spread, we expect to identify more individuals with COVID-19 in Washington."

A total of 37 people have been tested by the state for novel coronavirus. In addition to the three positive results, 29 tests came back negative and five are pending.

Health officials say that preventing the spread of COVID-19 begins with good personal health habits, including washing your hands often with soap and water, staying home when you're sick, covering your coughs and sneezes with a tissue and cleaning frequently touched surfaces and objects.

The Associated Press contributed to this report