2 more locations for new 'Nicklesville' encampment announced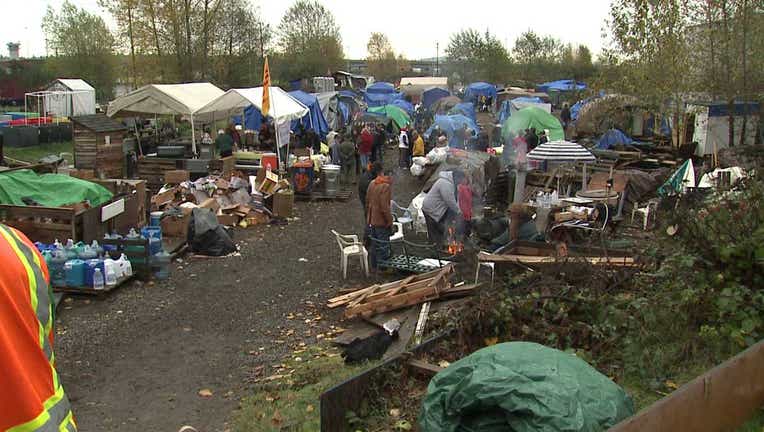 article
SEATTLE -- For more than two years Nickelsville has been the city's homeless encampment, but it's closing Sunday.

Three locations have been named as potential sites for the new encampments. One of the relocation sites sits in the Central District. It has 12,000 square feet of space, enough to hold about 30 tents. The two other locations are at 1418 22nd Avenue, which is a vacant lot, and 12914 Martin Luther King Jr Way South in Skyway, another vacant lot.

Violeta Quiroz lives directly behind the location of the Central District site, and she worries about her soon-to-be neighbors. "They could be friendly or not -- we don't know," she said. "We're taking the risk here."

The lot near 20th Avenue South and South Jackson Street isn't going to be vacant for much longer. A local church is partnering with the Low Income Housing Institute which owns the property. They are giving at least some of Nickelsville's displaced residents somewhere to go.

"It's sort of horrifying that you can have such a wealthy city like Seattle and still be living in a tent," Sharon Lee, executive director of the Low Income Housing Institute, said. "It's better to be living in a tent in a community with other people than to be on your own."

Nickelsville has been home to more than 150 people and the people there, for a variety of reasons, don't have a lot of other housing options.

"It just happens, it's just people," Kara Serwatka said. Serwtka is homeless and lives in the tent city. "It's not always of your doing."

Truby McDowell recently moved in to Nickelsville. Now she and her six kids have pack up again.

"It's very difficult especially with the kids. I have kids from 18 months to 11 (years old) so it's very hard," McDowell said.

Once it became clear the city was serious about the Sept. 1 deadline to shut Nickelsville down, the Low Income Housing Institute and local churches stepped up.

"They're going to be providing counseling, food, they're going to provide back-to-school backpacks and supplies for children," Lee said.

At the Central District location, only families with children will be allowed. No drugs, alcohol, or guns will be permitted and there will be 24-hour security at the lot.