2 killed, 5 wounded in violent 24 hours across Puget Sound


BURIEN, Wash. -- Two people were killed and five more were wounded in multiple shootings in King and Snohomish counties in less than 24 hours Wednesday.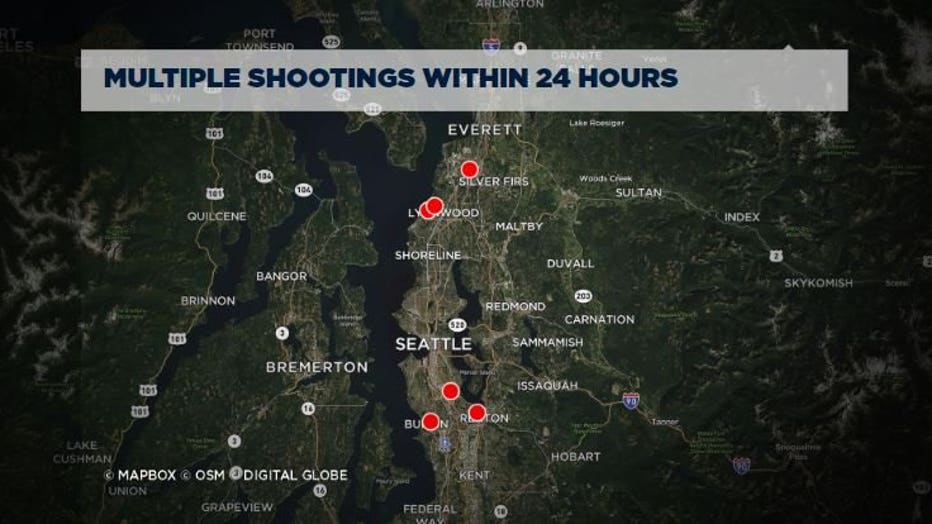 A map of shootings on Sept. 19, 2018.
Woman killed while driving in Skyway

In Skyway, a 22-year-old woman died after she was shot while driving down Rainier Avenue South around 10:15 p.m. Wednesday.

According to the King County Sheriff's Office, when the woman was shot she drifted into other lanes and hit another car.

Authorities said Thursday that the woman was targeted, but it was still unclear if the shooting was gang-related.

The driver of the other car was okay.

Stray bullet kills woman in Burien


Authorities say a woman was killed in a shooting outside a health clinic in Burien.

The King County Sheriff's Office says the 51-year-old woman was working at a chiropractic office on 1st Avenue South Wednesday afternoon when people fired from a vehicle.

"One of the rounds went through the window" of the One Source Chiropractic office and "struck the front office worker," said Sgt. Ryan Abbott.

"She was just at work, doing her job, trying to provide for her family and a stray bullet" crashed through the window and struck the woman, Abbott said. "This is extremely tragic."

Detectives said at a news conference Thursday that deputies had arrested two teenage gang members in connection with the shooting.

Abbott said investigators made the arrests with the SWAT team late Wednesday night. The suspects have not yet been identified because they have not yet been charged with a crime. Any charges will be filed by the King County Prosecutor's Office.

Abbott said no other suspects are outstanding.




Deputies said the suspects were trying to hit a man who was walking on the sidewalk. That person was not hit and is cooperating with authorities.


Woman shot in south Seattle

A 32-year-old woman was shot Wednesday afternoon in south Seattle.

According to Seattle police, officers were called just before 1:00 p.m. to an intersection near Rainier Beach High School.

Medics transported to Seattle's Harborview Medical Center where she was listed in serious condition. No word on any suspects.

Lynnwood shootings

Several shootings happened overnight in Snohomish County as well -- including a man shot while searching for his dog in Lynnwood. He suffered only minor injuries.

Just hours before that, an 18-year-old woman and a 20-year-old man were injured in a drive-by shooting also in Lynnwood, near Olympic View and Blue Ridge drives.

The man and woman in the vehicle sustained gunshot wounds and were rushed to Seattle's Harborview Medical Center. An 18-year-old woman was shot in the neck and was listed in critical condition. A man in his 20s was shot in the arm.

Authorities say the victims may have known the assailants.

Mini-mart shooting

A man was shot and seriously injured during an altercation outside a mini-mart in South Everett Wednesday night, the sheriff's office said.

The shooting occurred in the 300 block of 112th St. SW at the Mariner mini-mart.

"An altercation occurred outside a mini mart between 4 adult males," the Snohomish County Sheriff's Office tweeted. "1 male transported to Providence with serious, possibly life-threatening injuries.

"Suspects fled the scene in vehicle," the sheriff's office said.

The Associated Press contributed to this report.