2 explosions at Boston Marathon; several injured


BOSTON -- Less than two hours after Lelisa Desisa of Ethiopia crossed the finish line as the winner of the 2013 Boston Marathon, a report of two explosions at the event were reported.

The explosions happened near the finish line. CNN reported that the second explosion came from a sidewalk.

CNN reported that at least six people were hurt in "large explosions." There have not been any reported fatalities and no one has claimed responsibility for the explosion.



[trib_ndn vid=24740141 freewheel=91045 site_section=dash]

The explosions happened about 2:50 p.m. EST near the Boston Marathon finish line and the intersection of Boylston and Exeter Streets, where thousands of people gathered to watch the race.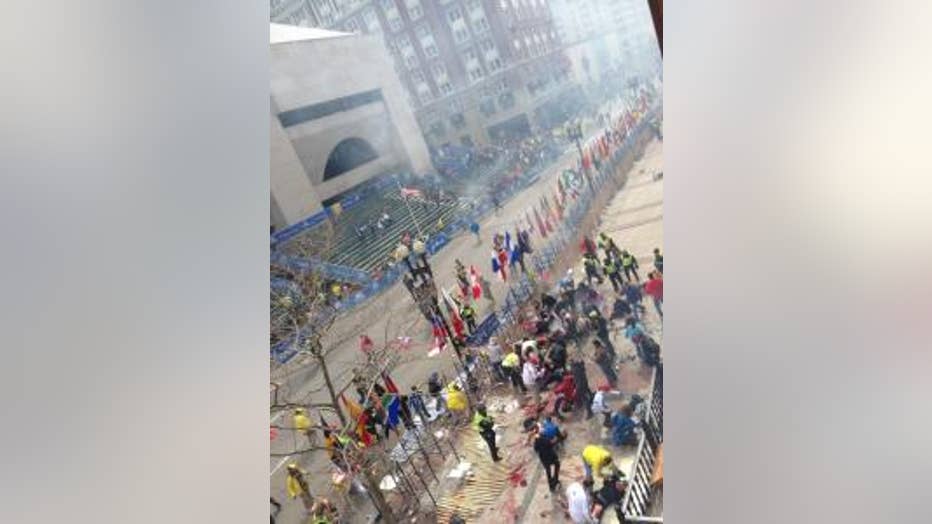 Photo courtesy of Tyler Wakstein


The first explosion happened across from the Lenox Hotel and the second blast was about 15 seconds later, witnesses said.

Store fronts were reported to have been blown out, and there were also reports of dozens of injuries. Witnesses said a number of victims lost limbs, the race was stopped and the area is being evacuated. It is believed that many of the injured were spectators who were watching the 117th race.

Authorities have urged people to stay away from trash receptacles in the area -- they said this is a precautionary measure.

Another possible device was reported to be found in the Mandarin Hotel and the Boston Globe reported that authorities are finding other incedinary devices. About 3:55 p.m. EST here was a third, controlled explosion near the Boston Library.

More information will be posted here as it becomes available.

More than 500 people from the Seattle area ran in the marathon. A link a list of participants in the 2013 Boston Marathon is available here.