2 'dangerous' men escape from Western State Hospital; one in custody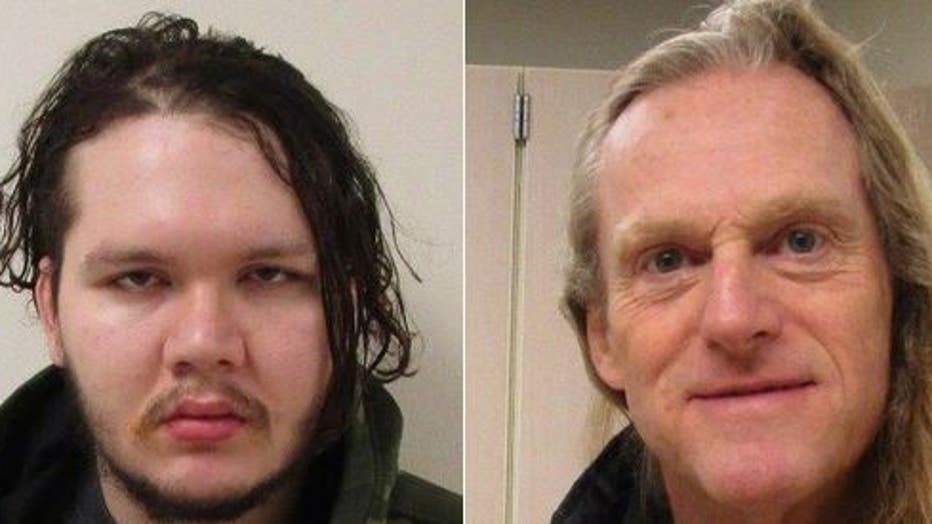 From left, Anthony Garver and Mark Alexander Adams.


LAKEWOOD, Wash. -- One of two "dangerous" men who escaped from a psychiatric hospital was taken into custody Thursday morning in Des Moines.

Mark Alexander Adams (right) was picked up without incident and was taken back to Lakewood to be interviewed by detectives.

Someone called police and reported seeing someone who looked like one of the escapees around 9:45 a.m. near Des Moines Gospel Church at S 220th St and 7th Ave.

The other escapees, Anthony Garver, (left) is still wanted.

Lakewood police said the pair escaped from Western State Hospital in Pierce County, south of Tacoma, sometime Wednesday evening.

They said 28-year-old Garver and 58-year-old Adams fled on foot before getting on a bus.

Police said both men are dangerous to others. And both were being treated for mental illnesses under court commitment out of Snohomish County.

Garver and Adams were seen in the hospital's dining hall around 6 p.m. Wednesday, according to Lakewood police.

They weren't noticed missing until about 1½ hours later.

"CALL 911 if you see these two escapees or have information," a post on the Lakewood police's Facebook page said. "DO NOT attempt to contact them!"




A sighting reported

Authorities said Thursday morning that a bus driver reported seeing the two men and they had requested surveillance video from the bus.

Lakewood police Lt. Chris Lawler says the driver picked up a man he believes was 28-year-old Anthony Garver around 6 Wednesday night. A couple of hours later, he picked up a man he believes was 58-year-old Mark Alexander Adams. The driver told authorities Adams was interested in going to SeaTac.




'Dangerous to others'

Garver — a 5-foot-8 and 250-pound white male with brown hair — was arrested for murder in 2013 but found not competent to stand trial.

Adams — a 6-foot and 210-pound white male with long blond hair — was arrested for domestic assault in 2014 but also found not competent for trial.

Police are urging anyone who spots Garver to keep away and contact authorities.

"It is suspected that they left together on foot and may have obtained transportation," Lakewood Police said of the two men's escape. "They were both housed in the locked civil ward at the hospital and may have escaped out of a loose window in their room."

"Both subjects are reported by the hospital to be dangerous to others," police said.  "If anyone spots Garver or Alexander, do not attempt to contact them. Call 911 to report their location."

Who are they?

Garver is white, 28, described as 5-foot-8, 250 pounds, with long curly brown hair and a beard/mustache. He was last seen wearing a brown faded sweatshirt and orange jail flip-flops. Garver, on supervision with the Department of Corrections, had been arrested for first-degree murder in 2013 and was found not competent to stand trial. He was at the hospital to receive treatment. He is originally from the Spokane area, but his crime was in Snohomish County.

Adams is white, 58, described as 6-foot, about 210 pounds, with long blond hair. He was last seen wearing a white T-shirt and gray shorts. Adams committed his crime in Snohomish County and is from that area. Adams was sent to the hospital to receive treatment on an Assault 2/Domestic Violence arrest in 2014 where he was found not competent to stand trial. Adams may try to flee to California, police said.

Police said both men were on a court commit order of of Snohomish County to treat mental health. They both arrived at the hospital in February 2015, police said.

Garver is charged with killing Phillipa Evans-Lopez, 20, in a Lake Stevens home on June 17, 2013. She was found tied to a bed and stabbed to death.




Here is an earlier Q13 FOX News story on Garver:
Arrested WMW fugitive accused of tying up; stabbing woman to death

Other recent stories involving Western State Hospital >>>
Federal regulators issue safety notice at state hospital

Psychiatric hospital staff say they face retaliation at Western State

Lawmakers blame managers for problems at Western State Hospital

State wants extension to comply with mental health order

The Associated Press and CNN Wire contributed to this story