2-car crash in Seattle sends one vehicle careening into gas pump, triggering brief fire


SEATTLE -- A two-car collision Monday night in north Seattle sent one vehicle careening into a gas station, where it slammed into one gas pump, knocking it about 35 feet away and starting a fire, the Seattle Fire Department said.

The accident happened just before 8 p.m. at the Shell station at 10005 Holman Road NW.

The fire that started with the impact into the gas pump was quickly extinguished by firefighters, who shut down the pumps with the emergency shutoff and doused the fire with dry chemicals.

Investigators said Tuesday that a rideshare driver, 60, in a Nissan had a passenger, a 40-year-old woman, at the time. The Nissan struck a Honda also traveling north on Holman Rd. The impact caused the Honda to slide sideways into a tree, cutting it in half.

Firefighters said one car was split in two, and the driver was rushed to Harborview Medical Center with life-threatening injuries, Seattle Fire said.

The Nissan continued north for two blocks -- eventually crashing into the gas station. The passenger in the Nissan was taken with non life-threatening injuries to the hospital. The driver was not injured.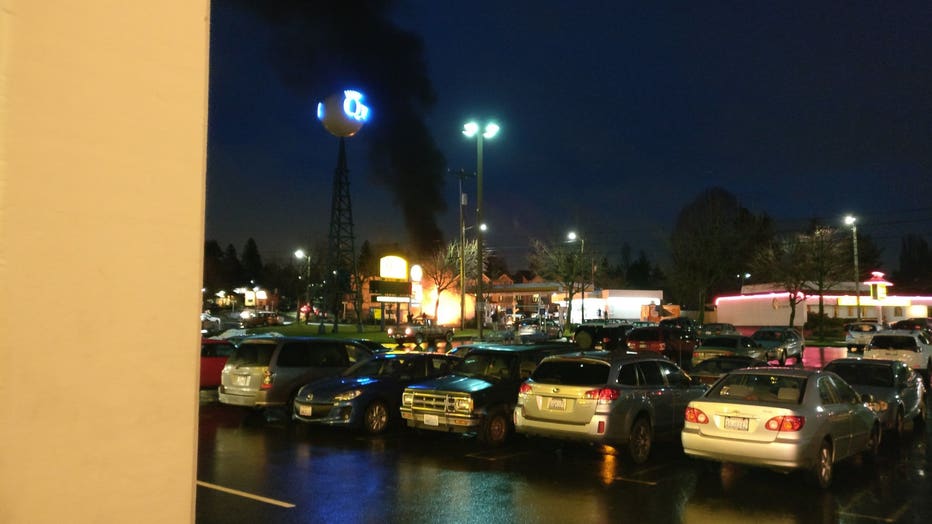 Photo taken seconds after fire erupted at gas station.(Photo: Jared @jaredallard)