2 baristas busted in Kent for allegedly selling more than coffee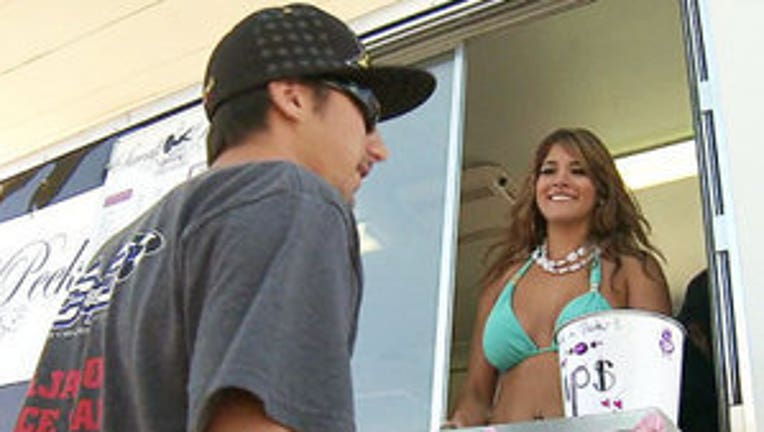 KENT, Wash. -- More bikini baristas are in trouble with the law.

Kent police said Thursday that two women at a coffee stand in Kent were seen committing lewd acts in front of undercover officers or on undercover cameras.



At the Twin Peaks Smokin' Hot Java, they advertise a little bit of everything – including special days such as "miniskirt Mondays, tease me Tuesdays, wet T-shirt Wednesdays, thigh-high Thursdays and fantasy Fridays."

A lot of neighbors are disgusted.

"Nobody needs that in the neighborhood. Coffee stands are great but nobody needs that kind of … exposure; Ha," neighbor Nancy Obrigewitsch said.

Along with the daily specials, Kent police said some of the baristas were serving up a lot more for customers who paid with tips that ranged from $10 to $25.

After complaints from the public about lewd behavior, the Kent Police Department special investigation unit started a five-month undercover investigation. They used a surveillance camera and visited Twin Peaks drive-thru to build a case against two baristas.

A 23-year-old woman was arrested for prostitution; a 19-year-old was arrested for violating the city of Kent's Adult Entertainment Ordinance.

"I think it just makes it seem cheap, just makes all coffee shops look bad," neighbor Janice Mosich said.

At Twin Peaks, nothing can be seen from the street. But as children walk by, again, the message is clear.

They're "basically saying, come to this area and this is what you can find -- and that's not what it should be about. You go to get coffee;  it should be coffee, not nudity," said another neighbor who identified herself only as Cat.

The problem is certainly not new.

Four women were arrested for prostitution and for exposing themselves at a coffee stand in Everett in 2009.

Then just last week, Everett police arrested two more baristas.

"I don't think it a good environment, got to clean it up and get it out of here," Mosich said.

As part of their investigation, Kent police also visited other bikini barista coffee shops around the city and found them all to be in compliance with city ordinances. But they stress their investigation is not over.