17 people, including children, dead after 'Ride the Ducks' boat capsizes on Missouri lake


BRANSON, Mo. (AP) — Seventeen people, including children, died after a boat carrying tourists capsized and sank on a lake during a thunderstorm in a country music mecca in southwest Missouri, authorities said Friday.

The Ride the Ducks boat sank on Table Rock Lake in Branson Thursday evening. Missouri State Highway Patrol Sgt. Jason Pace said 14 people survived, and that seven of them were injured.

A spokeswoman for the Cox Medical Center Branson said four adults and three children arrived at the hospital shortly after the incident. Two adults are in critical condition and the others were treated for minor injuries, Brandei Clifton said.



Stone County Sheriff Doug Rader said Thursday that stormy weather likely made the boat capsize. Another duck boat on the lake made it safely back to shore.

Steve Lindenberg, a National Weather Service meteorologist in Springfield, Missouri, said the agency issued a severe thunderstorm warning for the Branson area Thursday evening. Lindenberg said winds reached speeds of more than 60 mph (100 kph).

"It's a warning telling people to take shelter," he said.

Rader said an off-duty sheriff's deputy working security for the boat company helped rescue people after the boat capsized. Dive teams from several law enforcement agencies assisted in the effort.

The National Transportation Safety Board said investigators will arrive on the scene Friday morning.

Suzanne Smagala with Ripley Entertainment, which owns Ride the Ducks in Branson, said the company was assisting authorities with the rescue effort. Smagala added this was the Branson tour's only accident in more than 40 years of operation.

Branson is about 200 miles (320 kilometers) southeast of Kansas City and is a popular vacation spot for families and other tourists looking for entertainment ranging from theme parks to live music. An EF2 tornado that bounced through downtown Branson in 2012 destroyed dozens of buildings and injured about three dozen people, but killed no one.

Duck boats, which can travel on land and in water, have been involved in other deadly incidents in the past. Five college students were killed in 2015 in Seattle when a duck boat collided with a bus, and 13 people died in 1999 when a duck boat sank near Hot Springs, Arkansas.

Safety advocates have sought improvements since the Arkansas deaths. Critics argued that part of the problem is that too many agencies regulate the boats with varying safety requirements.

Duck boats were originally used by the U.S. military in World War II to transport troops and supplies, and later were modified for use as sightseeing vehicles.

The boat in this latest accident was owned and operated by Ride the Ducks Branson.

In Seattle, Ride the Ducks Seattle issued the following statement:

"Ride the Ducks Branson is not affiliated with Ride the Ducks Seattle. They are independently owned and operated companies.

"Our condolences go out to those affected by what appears to be a weather-related accident in Branson Missouri.

"At Ride the Ducks Seattle, we follow a strict protocol that determines whether our Coast Guard-inspected Ducks can go on the water.  This protocol factors in wind speed, wave height, and the potential for inclement weather. Our internal protocols are more stringent than those prescribed by the United States Coast Guard.

"In instances in which we determine that the weather could be an issue for the comfort or safety of our guests, we either eliminate the water portion of our tour, or change the route to the less wind-exposed Salmon Bay. If weather changes suddenly, our Coast Guard-licensed captains have the full authority to modify or cancel trips at any point during the tour."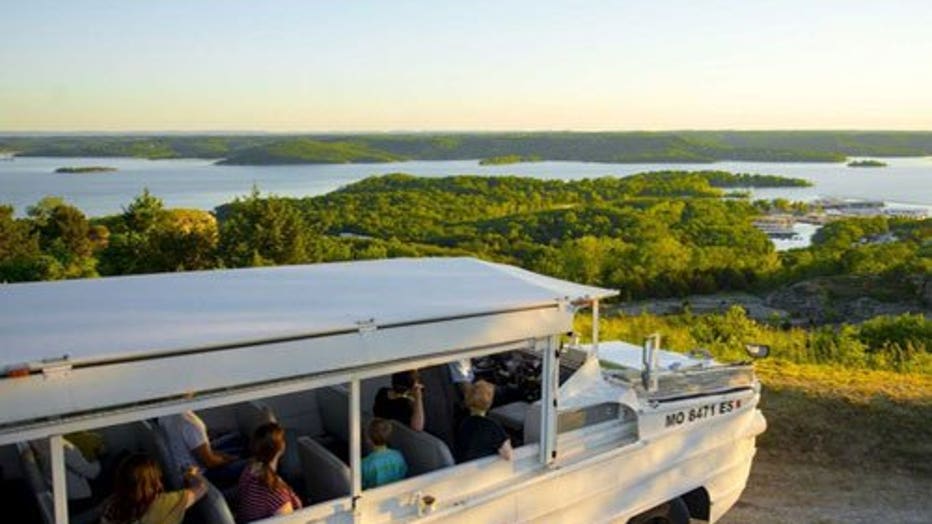 (Photo: Bransonducks.com)