$15 minimum wage supporters demonstrate outside fast-food joints


SEATTLE -- The demonstrators carrying signs for a $15-an-hour minimum wage hit the lunchtime crowds across the city Thursday, but most customers ignored their call for a boycott of fast-food restaurants and went on in to buy their burgers.

"If I'm hungry, I'm going to go eat, regardless," said Eric, a customer at the McDonald's near University Village.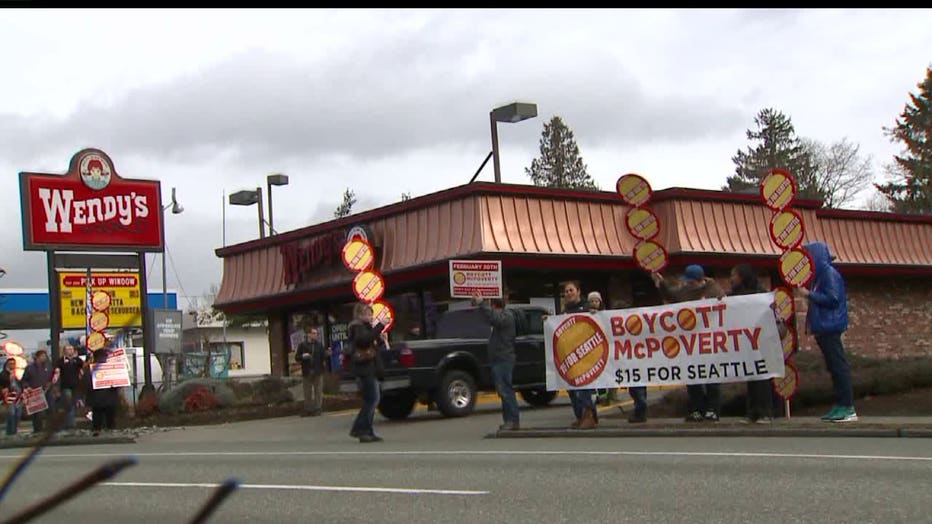 Fast-food workers demanding a $15 minimum wage in Seattle believe their movement is growing.

"It's our turn to get what we deserve," said Martina Phelps, a McDonald's worker.

Alonna Monroe protested outside the Wendy's in Lake City where she works. She admitted she's nervous about what her employer may do, but she said she and other workers are struggling to make it on their current wage, so the risk is worth it.

"I'm in this for my family," said Monroe. "The consequences could be bad, but then the outcome could be great."

Protesters showed up at 25 fast food restaurants on Thursday, but the goal is for a $15 minimum wage citywide.

Anthony Anton, president of The Washington Restaurant Association, said there is support for a minimum wage increase over time, but to immediately go to $15 an hour "is causing an extreme amount of fear."

The owner of a flower shop near one of the McDonald's protests didn't want to go on camera because she's scared of retaliation, but said if the minimum wage goes to $15, "I'm going to close my shop. They (the protesters) don't think about us, the small businesses. They just think about the money."

Supporters of a $15 wage disagree, saying it will actually help the economy, because workers will have more money to spend at local businesses.

Seattle City Councilwoman Kshama Sawant campaigned on the issue and was part of the protests.

Mayor Ed Murray has put together a task force to figure out the best way to raise the minimum wage. But many people on both sides of the issue believe it will ultimately end up on a ballot before voters.