12th Man already geared up at CenturyLink; spirits not dampened by rain


SEATTLE -- Western Washington is in for a wet and windy weekend. But Seahawks fans are ready. On the eve of the big game against the Saints, the rain was certainly not dampening spirits.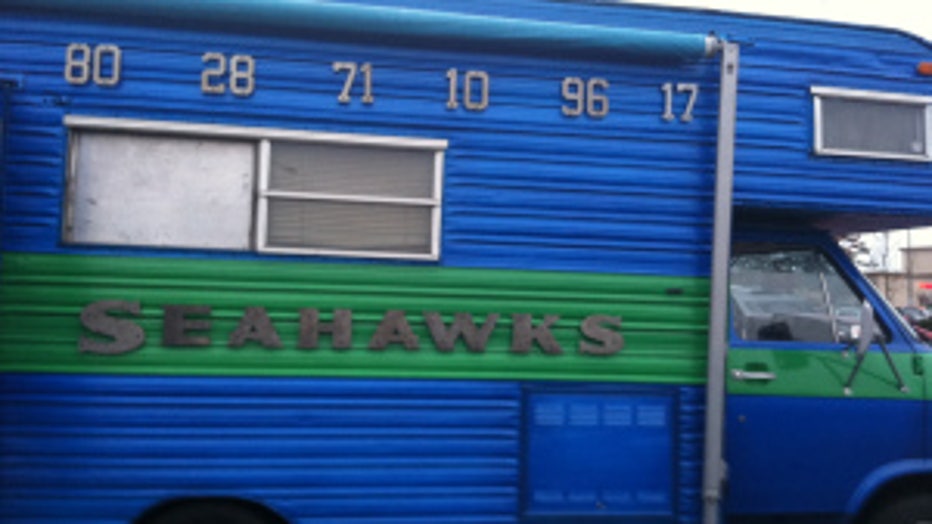 Chris McKenty and his friends call his RV the Warhawk. It was already outside CenturyLink Friday night for Saturday afternoon's game.


No matter where you turn, it's Seahawks fever.

Fans who did not want to fight the crowds to find a good spot to tailgate Saturday camped out Friday night.

"Normally I get here two days before," Willie Plummer said.

Plummer's RV was parked in his favorite spot in the Sodo district Friday night.

"There is a an art to this; people are crazy," Plummer said.

And no amount of rain will keep the 12th Man away.

"So I've got my emergency poncho to wear over my rain gear because it's going to be super wet and an extra pair of glove liners," Darren Cromwell said.

"Rain or shine we will be the loudest crowd," Carson Wright said.

"We live in Seattle if you don't love the rain you should not be here," Anthony Toomer said.

"I have a flat panel TV that mounts right here (points to window on outside of truck) so when the awning comes out, when we are tailgating, we can watch the early game out here," Chris McKenty said.

McKenty and his friends call his RV the Warhawk.

"Of course the perfect Hawk logo, back-lit with the green LEDs," he said.

It also comes with a grill, a keg tap, a giant helmet and a siren.

"On the way to the games, everyone is giving us a thumbs up. It is great," Hayes Mundell said.

Fans are ready for the Super Bowl.

"I am on top of the world. I definitely will be on top of the world when we win," McKenty said.

"It's going to be about ball control tomorrow.  Without that, there is going to be a lot of turnovers because it's so slippery," Nick McKenty said.

No matter what the score turns out to be, one thing is for certain -- people will party.

"A lot of drinking, yes," Elysian Fields Manager Colin Walsh said.

Elysian Fields is across from CenturyLink Field and they are expecting a line of people in the morning, even before the servers get to work. Meanwhile at Paddy Coyne's Irish Pub, the celebration was already in full swing Friday night. Dozens of people showed up in Seahawks gear.