12-year-old walks into school, opens fire; 2 classmates wounded


By John M. Glionna and Michael Muskal

Los Angeles Times

ROSWELL, N.M. --  A seventh-grade boy walked into a middle school Tuesday morning and opened fire in the gymnasium, wounding two classmates, one critically, officials said.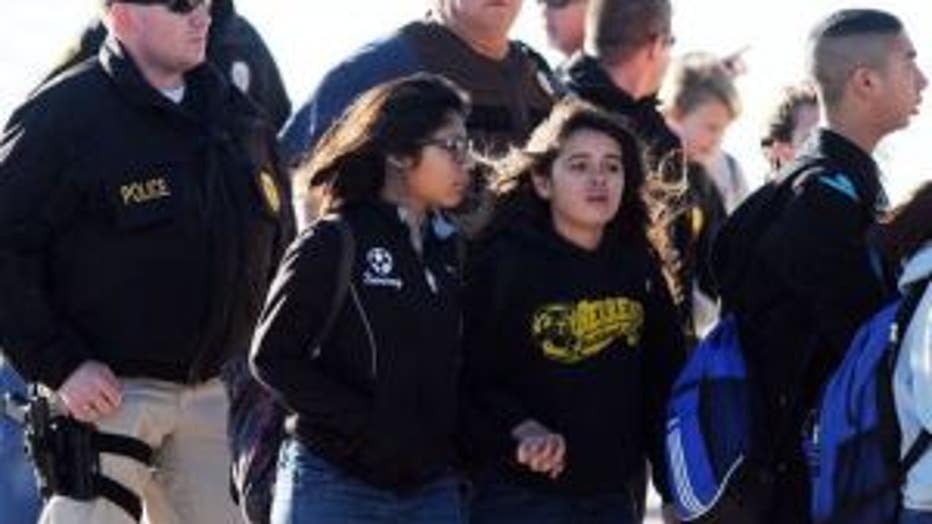 Students surrounded by police are escorted from Berrendo Middle School after a shooting, Tuesday in Roswell, N.M. Roswell police said the suspected shooter was arrested at the school. (Mark Wilson / Roswell Daily Record /January 14, 2014)


There was no immediate motive for the shooting, which began about 7:30 a.m. at Berrendo Middle School, New Mexico State Police Chief Pete Kassetas said at an afternoon news conference.

He said the 12-year-old shooter, brought what is believed to be a shotgun in a bag into the school.  He went into the gym where students were gathered at the start of the day because of the cold, and opened fire, Kassetas said.

A teacher heroically approached the child and ordered him to drop the weapon, which he did, officials said. Later a state police lieutenant, who was dropping off a student, was allowed to enter the building to help control the situation.

"I believe we have the only individual responsible for this at this time," Kassetas said.

The school system has its own security force, said Roswell school Supt. Tom Burris. The educator said you always hope this type of incident doesn't happen.  "It is unbelievable that it did," he said.

The shooter was in custody but it was unknown what charges he will face given his age. Officials said they still have to interview many of the witnesses.

Three people were injured in the attack, Gov. Susana Martinez told reporters.

A male student, 12, was listed in critical condition at University Medical Center in Lubbock, Texas, and a 13-year-old girl was in the same facility in serious condition, the governor said.

Both students had been airlifted to Texas after they were rushed to a Roswell hospital where they were treated and stabilized, officials said.

"I am asking all New Mexicans to keep these children in your prayers," Martinez said. "They were shot simply sitting in a gym waiting to go to class."

The governor said that a school staff member was also injured but that the wound was minor. The staffer refused hospital treatment to stay at the school.

None of those involved have been named.

News of the shooting spread quickly earlier in the day via social media as school officials locked down the campus. Hundreds of parents congregated at the Roswell mall to meet their children, who were bused from the school.

Ynez Fox, who works at a nearby hospital, said she saw police cars and ambulances rushing to the school just before 8 a.m.

"I couldn't breathe," she said. "I feared the worst."

Then her son called from an unfamiliar cellphone number.

"Mom, there's been a shooting at school," he said, "but I'm OK." His voice was calm, almost without emotion, and she assumed it was because he was in shock.

"It wasn't even his phone," Fox said of her son. "He doesn't even have a cellphone. But he's going to get one now."

Officials scheduled a prayer vigil at the Roswell convention center for 6 p.m. They also made arrangements for specialists to deal with children's grief and shock.

"Today is the day no superintendent ever wants to go through," Supt. Burris said.