11 things to carry in your car to keep your family safe this winter
SEATTLE -- We're expecting a lot of rain this week and all that precipitation turns to snow in the mountain passes.

WSDOT has a great list it posted last year of what you should have in your car before taking on the snowy roads.

The transportation agency created this handy infographic to help you keep your family safe: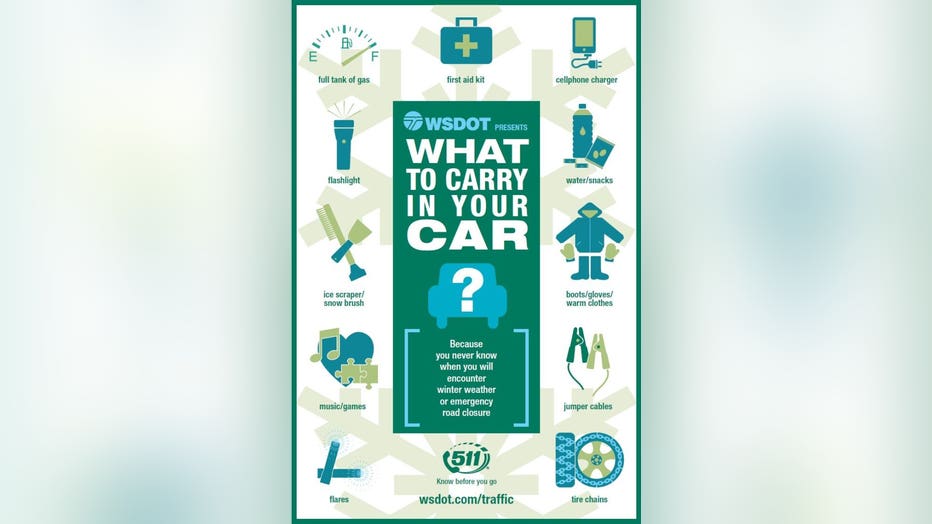 On item of course, is snow chains. We've all seen them, but not all of us have them. And even less know how to properly install them.

Enter Andrea Petrich, WSDOT's public information officer. Last year she went before the camera and gave us a great demonstration of how easy it is to put them on your car.




In the 2016 Facebook post, Petrich also says that you need to pull over and stop every few miles to check the chains. If they get loose, they could do real damage to your car.

Another way to avoid damage is to keep it slow in the snow.  Petrich says you'll probably not want to go more than 30 m.p.h. with chains on your car.

Chains aren't your only option. There are also Snow Socks for your car. Consumer Reports looked at the snow traction performance of an all-season tire vs. a winter tire, two snow socks, and one textile snow chain. You can research to see what option is best for you.

And finally, give yourself extra time to get from where you are to where you want to be. Remember, you may need to cut your speed and there may be a time you need to put those chains on.  And after watching the video, you know how to do it!

Here's a handy checklist from WSDOT: