1,000th Capture: WMW viewer tips lead to convicted felon, milestone arrest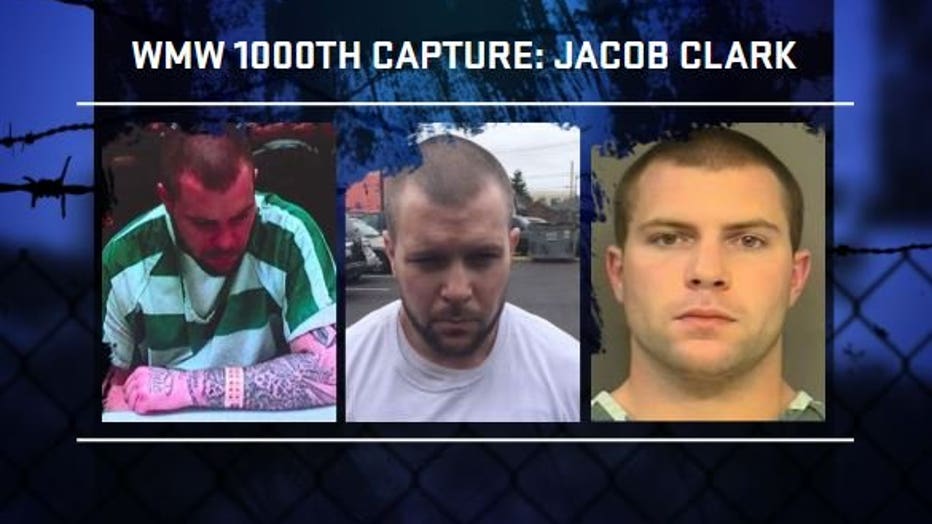 SNOHOMISH COUNTY, Wa. -- A convicted felon wanted for Unlawful Possession of a Firearm, Attempting to Elude a Pursuing Police Vehicle, Possession of a Controlled Substance with Intent to Deliver and Bail Jumping is the 1000th fugitive captured thanks to Crime Stoppers tips from viewers of Washington's Most Wanted.

The Snohomish County Violent Offender Task Force and the U.S. Marshals-led Western District of Washington Fugitive Task Force arrested 32-year-old Jacob Clark at the Welcome Everett Inn at 1205 Broadway in Everett on Wednesday, August 1st.




"Mr. Clark's a well-known drug dealer. I talk all the time about the heroin epidemic and certainly we want to try to get people help that are addicted, but this is the kind of guy who's preying on the community and in my mind, that is in the top three worst individuals," said Snohomish County Sheriff Ty Trenary.

Clark had several bench warrants for his arrest dating back to October 2017, when he failed to appear in Snohomish County Superior Court for his arraignment.

"Through a partnership with Q13 and Washington's Most Wanted and getting the community involved, we've gotten 1,000 bad guys off the street. A 1,000 bad guys. That's a good number in anybody's book," said Sheriff Trenary.

Retired Detective Myrle Carner says Crime Stoppers of Puget Sound will be paying a reward to the tipster who helped deputies locate Clark. "It's because of you folks out there that I'm standing here with a big smile today. This was a dangerous guy, a felon on the run," said Ret. Det. Carner.

Washington's Most Wanted first aired in November of 2008 with a mission of giving a voice to victims. Ten years later, Clark is a milestone capture.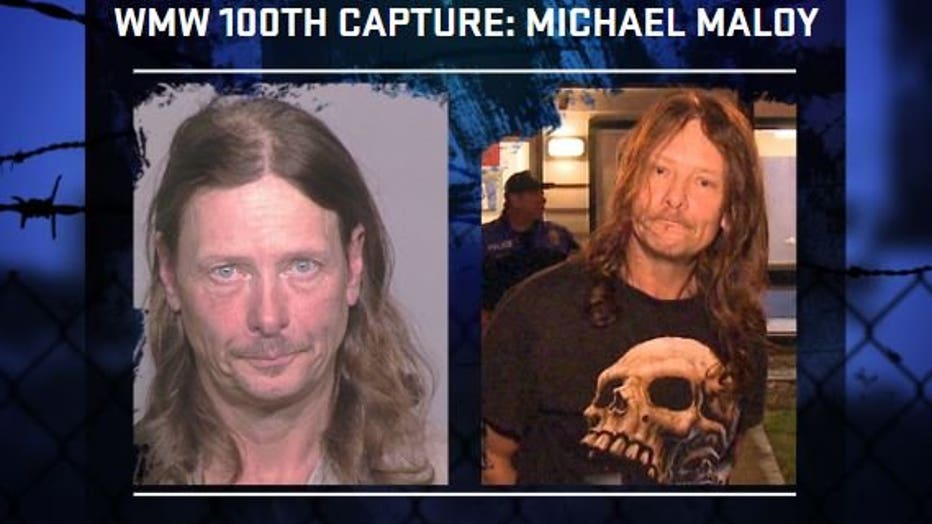 Among the arrests are notables like Michael Maloy -- busted in Tacoma for violating parole after he killed his girlfriend.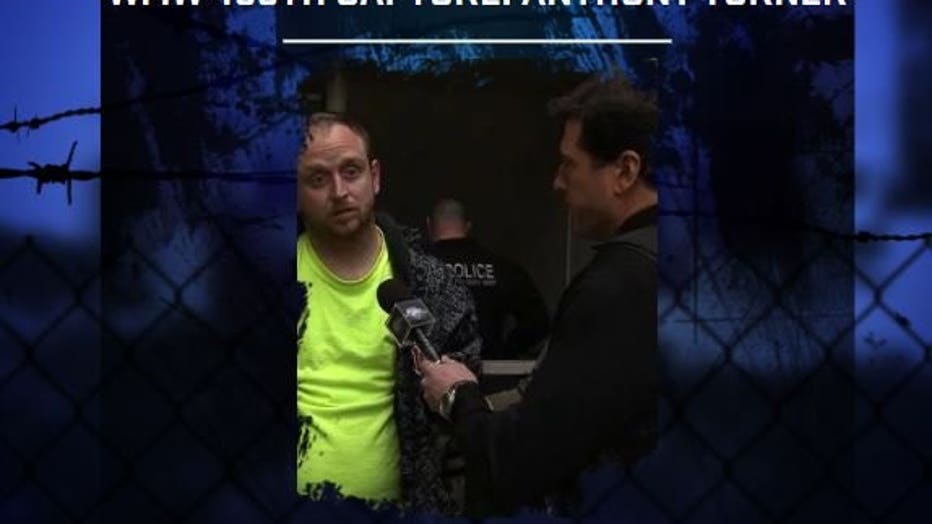 Three years later, we joined the Violent Offender Task Force for the arrest of Anthony Turner -- a convicted felon accused of hitting an officer with a stolen jeep.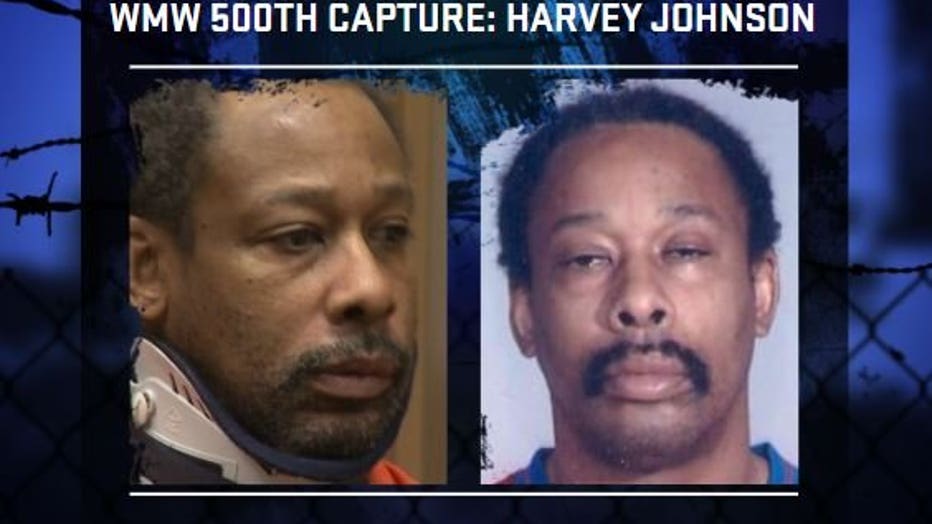 A year later your tips helped King County Sheriff's detectives catch our 500th fugitive -- a Level III sex offender wanted for raping a  woman in Tacoma. Harvey Johnson was convicted and sent away.

Our mission is to help vulnerable victims, people who touched our hearts like Lila, an 85 year old grandmother who was attacked and robbed outside a grocery store. 'It was so fast, I couldn`t believe it. He got my purse and I fell flat on my face,' said Lila.

Your tips identified all of the suspects. It's the same justice you helped robbery victim, Carolyn, get after a thief stole her tablet computer and her sense of security. "I was mostly angry because they scared me and made me feel unsafe," said Carolyn. I was there as she testified at the suspect's sentencing. "I forgive him and hope that once he has been held accountable, he will use the resources he has now been given to make a new and different plan for his life without criminal activity," said Carolyn.

Now, Jacob Clark will have that same opportunity for redemption. He is being held on $75,000 bail, despite a plea from his attorney in court, "He does not have the ability to post that amount of bail. He`s not working. He has absolutely no income and he does have several children who he is trying to financially support."

Clark joins a long list of fugitives who've learned the hard way that once you're on Washington's Most Wanted, there is #nowherelefttohide.

"Now, we're on the march to 2,000, but we're celebrating the 1,000th and we want to thank you very much," said Carner.

Washington's Most Wanted began in November of 2008 as an effort by Q13 FOX Senior Vice President and General Manager Pam Pearson to provide local programming to keep communities safe. "If you take it back to ten years ago, what started with me is something very simple. We all want to feel safe. Our families, our pets, our friends, our neighbors and I was thinking, if we could do something to contribute to that as a television station, I think that would be a wonderful thing to do," said Pearson. "And, in addition, if we were able to utilize the community and bring the community together to work on a common goal, I thought that was a good thing too. And, America's Most Wanted was still on the air 10 years ago and certainly we took a page from their book and said, 'What if we could do that locally?' And, here we are, but the thing I was a little naive on, was really what it would require in terms of the dedication of the staff here at the station, so I had the idea, but it took David Rose and all the other talented individuals to really bring this program to life and the community and I think if you were to look at the stars of the show, the community would really be at the top of the list."

Over the last ten years, the show has profiled many of the most notorious fugitives in the Pacific Northwest with the mission of giving a voice to victims.  Captures have included numerous 'Armed and Dangerous' fugitives including murder suspects, rapists, bank robbers, sex offenders and the most violent animal abusers.

"We can't lock up people without the help of all the citizens that watch the show. Washington's Most Wanted, you're doing a great job. Congratulations on your 1000th capture," said Acting U.S. Marshal Jacob Green.




The weekly half-hour program works in partnership with Crime Stoppers programs statewide as well as local and federal law enforcement.

"I'm extremely proud of the work our entire team has done to help vulnerable victims get justice. Thanks to our viewers and followers on social media, criminals quickly learn there is nowhere left to hide when they're featured on Washington's Most Wanted," said host and Executive Producer David Rose.

Washington's Most Wanted airs Friday night at 11pm on Q13 FOX. Washington's Most Wanted also airs on Saturdays at 10:30 pm on FOX 41 in Yakima, FOX 11 in the Tri-Cities and FOX 28 in Spokane.