10-year-old red panda at the Woodland Park Zoo dies
SEATTLE — Woodland Park Zoo is sad to announce that Stellar, a 10-year-old, female red panda, was humanely euthanized last week after a brief period of hospitalization due to health decline over the past couple of weeks. The red panda had lived in an off-view enclosure since she arrived in 2008 from Edmonton Valley Zoo in Alberta, Canada under a conservation breeding program.

The median life expectancy for red pandas in zoos is 10 years and 8 years in the wild.

Over the last two weeks, the geriatric red panda had shown signs of illness, including incontinence and apparent pain when moving, which progressed to a lack of appetite and reduced mobility. The zoo's veterinary team anesthetized Stellar for a diagnostic exam which revealed anemia, electrolyte abnormalities and skin lesions. She was moved to the zoo's veterinary hospital to receive supportive care but, despite this, she progressively worsened. On a second exam, her anemia was more severe and she had developed severe fluid accumulation in her chest which restricted her breathing. Due to the grave prognosis, the decision was made to humanely euthanize her.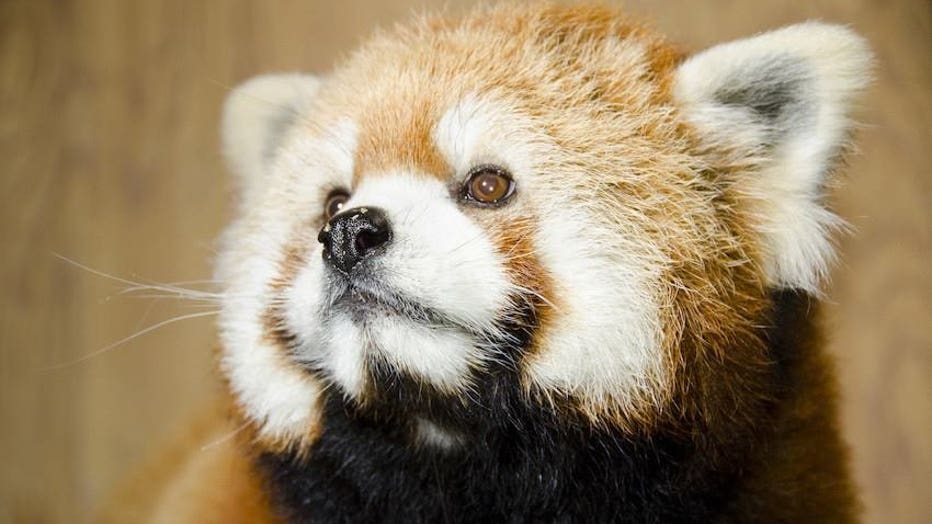 Woodland Park Zoo says farewell to its 10-year-old, female red panda, Stellar, who was humanely euthanized last week after hospitalization due to health decline over the past couple of weeks.(Credit: Ryan Hawk/Woodland Park Zoo)
As a standard procedure, the zoo's animal health team performed a necropsy (an animal autopsy). The necropsy revealed multiple findings with a large amount of fluid in her chest and abdomen possibly caused by liver disease as the most significant findings. The final diagnosis is pending histology and other tests.

According to Mark Myers, a curator at Woodland Park Zoo, Stellar was a mellow and tractable animal, which made it possible to condition her for medical procedures. To prepare Stellar for pregnancy, zookeepers successfully trained her for non-invasive ultrasound exams by enticing her with favorite treats. "While Stellar would snack on blueberries or leaf-eater biscuits soaked in apple juice, she allowed our keepers and veterinary team to perform this diagnostic procedure over the past couple of years," said Myers. Unfortunately, Stellar did not have any viable offspring.

"Stellar had a great personality and an adorable face that was hard to resist. She held a very special place in the hearts of her keepers and those in the community who had the pleasure of meeting her during special behind-the-scenes tours. It's a very difficult loss for our staff and she'll be missed very much."

Three red pandas currently live at Woodland Park Zoo: Carson, a male who recently celebrated his third birthday and who guests can see in the Temperate Forest; Yukiko, a 12-year-old male; and Hazel, a 1-year-old female who arrived in March from Cincinnati Zoo under the red panda conservation breeding program. Yukiko and Hazel live in off-view enclosures and will eventually be introduced to each other for breeding.
Red pandas share the name of giant pandas, but more closely resemble raccoons. While scientists still debate which family red pandas belong to¾raccoons or giant pandas¾recent studies suggest they are equally related to three different groups of animals that include skunks, weasels and raccoons.

In the wild, fewer than 10,000 red pandas remain in their native habitat of bamboo forests in China, the Himalayas and Myanmar, and share part of their range with giant pandas. Their numbers are declining due to deforestation, increased agriculture and cattle grazing, and continuing pressure from growing local populations.

In honor of Stellar, join Woodland Park Zoo in supporting the Red Panda Network, whose multi-prong approach aims to conserve this flagship species in Nepal. Help support the project by adopting a red panda through the zoo's ZooParent Adoption Program: www.zoo.org/support/zooparent/redpanda.